Category
News
Chargeback is not legally enforced by legislation but it has been used by credit card companies and is an accepted part of the credit system
continue reading
Some experts on autonomous cars say may take years for autonomous cars to become prevalent, but it's worth starting preparations now.
continue reading
Winter tyres are made of a softer compound of rubber that works better in the cold, but when the weather gets warmer, they wear out faster.
continue reading
The move would counter almost a decade of pushing diesel cars because of their lower emissions of Co2, due to concerns now over air quality.
continue reading
The idea of car scams is nothing new, in fact they are as old as time itself, it is the methods that are changing and we need to be aware of
continue reading
The current rate of sterling to euro impacts car values as there is now better value to be had shopping in the UK market than in recent times
continue reading
The point of a PCP is it relies on an accurate projection of the future used value of the car. All good news until the market softens.
continue reading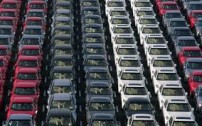 With one third of all new car sales sold availing of finance. the market must be prudent or run the risk of creating a "Car Finance Bubble".
continue reading
Official fuel consumption figures & "real life" test has not been 'fit for purpose' for some time – test companies picked by the car makers.
continue reading
With new car sales up 30% for the second year running can the increases continue this year? The latest figures for new car sales in 2015, released today by car history experts Motorcheck.ie, show the Irish market is up 30% year on year. The industry had estimated total sales of approximately 115,000-120,000 units...
continue reading
Features
Categories
Search