Have you ever wondered how many Harley Davidsons were registered in Wexford this year? Perhaps you have a burning desire to find out what the most popular colour in the Ford Focus was for 2008? If so, I'm hoping you'll find our new vehicle statistic service a useful way to browse new vehicle registrations for Ireland.
Slicing and Dicing New Car Registration Data
As you can imagine crunching numbers is a fundamental part of the working day at Motorcheck, and we've always thought it would be great if new vehicle information was available in a very user-friendly format. Waiting for someone else to do it didn't seem to be working, so we decided to develop our own stats application which we're delighted to share with you here on the Motorcheck blog. We've tried to make everything as simple as possible while also giving you some serious power to slice, dice and analyse the data. Here's a couple of tips to help you use the app.
Browsing Categories
We've divided all new vehicle registrations into 3 categories - Passenger Vehicles, Motorcycles and Commercial Vehicles. You can move through these simply enough by clicking on the tabs at the top of the options area:


Sort and Filter Data for Maximum Insight
You can quickly see how the top 10 makes and models have faired in one year relative to another (and this year there's a lot of red on the charts...). By adding a further filter you can see which car is most popular in any county (Sligo says 'UP THE VW GOLF!'). It's also possible to view the top 100 makes and models (only available when not using the compare fucntion). But these reports are just the tip of the iceberg. We've included a tonne of options to let you really drill down into the vehicle registration data. Here are the options you can use to sort and filter the data:
Year - select the year you'd like to view
From - your start month
To - your end month
County - if you'd like to filter by any county use this drop-down
Make - this option allows you to filter by any car make
Model - if you filter by Make a second drop-down will appear where you can then filter by model
Registration Type - allows you to filter by new registrations, imports, or both
Compare Year - probably the most powerful feature, allows you to compare any 2 years
Check out the 'Make' option! This gives you an opportunity to select a specific manufacturer and view all or one of their model range. If you'd like to separate 'New Registrations' (as in 'brand spanking new' vehicles) from 'Imports' (cars with a previous date of registration before the current year) you can do so using the 'Registration Type' filter. And if your feeling nostalgic - you can take your carefully narrowed search and compare it to previous years using the 'Compare Year' filter (check out the drop in Land Rover sales - ouch!)
Getting At Serious Stats
When you first load the application you'll quickly see just how deep and rich the data is. Here's a quick run down of each reportlet:
Top 10 Makes and Models
These reportlets are self-explanatory, showing you the top 10 makes and models for the selected time period. Things get really interesting when you select two years to compare:



You can quickly see how the top 10 makes and models have faired in one year relative to another.
Emissions and Fuel Types
Curious how fuel-efficient our new cars are based on the CO2 bands used by the Irish Government? Or want to see just how popular diesel cars have become in 2009? No problem, we've got all that covered:


Petrol/Diesel, Top Colours & Body Types
You can also see which colours and body types are popular, plus which petrol and diesel models are most common on our roads. We've broken down all the data for quick and easy consumption: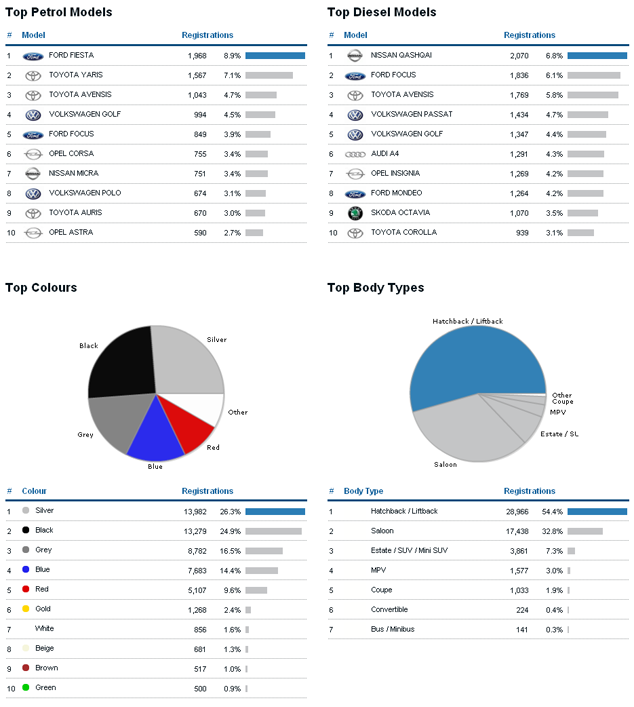 County Stats
The final table shows a breakdown of the current data by county. You can see how each county perfomed, or quickly filter by any county by clicking on it in the table (useful to find out what the stats look like just for that county):

Custom Reports
If you're a journalist or professional writer looking for fantastic statistics and analysis for your publication we'd be delighted to help out. We can generate custom reports free of charge, and provide you with up-to-date new vehicle registration data. If you would like to request a custom report from the Motorcheck database please contact us today.
Try It Out For Yourself
The application is live - New Car Registration Stats - so why not give it a try now. We'd love to hear how you get on, and what new features would make this application even cooler. We'd also love you to tell your friends, blog about this, or give it a tweet. You can easily grab the link for any report using the handy Get Link button:



We'd love to hear what you think in the comments below!
Custom Data
Are you a journalist or motoring writer? We have stats that can really make your copy 'pop', and we'd be more than happy to run custom reports to suit your needs. We can also provide graphs and tabulated data based on the most up-to-date vehicle registration data available in Ireland. Simply CONTACT US today and let us know what you need.
About the Data
All data is derived from official sources, namely the Vehicle Registration Office, and generally speaking we update the database every working day. We spend a lot of time cleaning and filtering the data we receive to ensure your reports are really comprehensive. We provide this data as a courtesy, and hope it will be useful, and offer all data "as is" without assuming responsibility for data accuracy.
Legal Stuff
The data used is compiled from new vehicle registrations provided by the Revenue Commissioners. Whilst Motorcheck endeavors to ensure that the statistics provided are as reliable as possible we do not accept any liability, financial or otherwise, for the accuracy of the data. Motorcheck reserves copyright over our presentation of the data, but would like to point out that the respective rights over all trademarks and logos used remain with the original owners.