I wouldn't normally use our blog to directly promote a Motorcheck service but I think this one deserves a mention.
New Offer
From March 1'st I'm delighted to announce that anyone using their Motorcheck fuel card to purchase a minimum of 500 litres in a three month period (that's roughly 35 litres a week) will qualify for an exclusiveFree Topaz Gift Card credited to the value of €20!
The gift card will be posted to you automatically and can be used to purchase any non-fuel items (Coffee, Sandwiches, Drinks, Chocolate, Bread, Milk e.t.c.) at participating outlets.
What is the Motorcheck Fuelcard?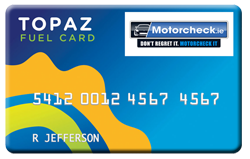 Motorcheck and Topaz formed a partnership three years ago to bring the benefits of a 'fixed price' fuelcard to private car owners in the Republic of Ireland (you can read more about the service on our main site here but main benefits include - a free card, 1 month's interest free credit and a guaranteed fixed price at Topaz stations natiowide).
There are over 15,000 fuel card holders using the card at present and the latest statistics for all transactions show that over 90% of purchases are at or below the pump price.
Of course the final saving will depend on local competition but as an average it's a great result!
Apply Online For Your Free Card

Please allow 4 weeks to process the application and complete delivery of the card.
Card Pricing
The fixed price on the card changes every week at midnight Friday. Please remember - the card is a fixed price and if you use it at a station where the pump price is lower, you will be charged the higher card price.
Free SMS Updates
Each card holders receives a free SMS every Friday afternoon indicating what the price will be for the following week. This way you will always know when to buy and avoid any crazy price hikes! If you'd like to view the price for this week online click on the following link  https://www.motorcheck.ie/fuelcard/pricing.
If you have any questions you can visit the main page or leave a comment below.