Fears grow for 10,000 jobs in motor industry as prominent multi-franchise dealership EP Mooney announces its closure today. The news comes just weeks after commentators warned there could be 10,000 jobs lost in the motor industry if the government doesn't provide some sort of stimulus to the troubled sector.
Can the Scrappage Scheme Save the Industry?
Indeed there's been a huge amount of controversy recently around the proposed introduction of a government sponsored scrappage scheme. It's no surprise that the principal sake holders in the motor industry are lobbying hard for one. With sales down more than 60% it's clear that the industry is in serious difficulty. With the recent closure of Belgard Motors and today's announcement from EP Mooney it looks like there are still more dealerships on the brink of closing.
Following on from the today's news I thought it might be useful to take a look at the age profile of the 'National Fleet' and try to get an understanding of who might benefit from the scheme if it were introduced. The following figures were taken from the Department of Transport's Irish Bulletin of Vehicle and Driver Statistics for 2008.
Age of Private Cars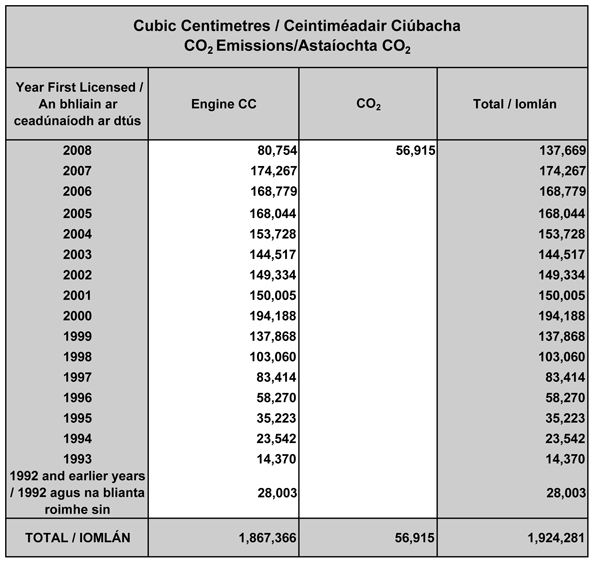 The graph above shows us that if we were to introduce a scrappage scheme for vehicles registered on or before the year 2000 we would be inviting approximately 677,938 (35% of the current fleet) car owners to 'scrap' their current car and purchase a new one. But how many of us could afford to make the jump from a nine year old car to a brand new one - even with a scrappage scheme? As we know, it's very difficult to source finance at the moment. A majority of buyers in the present 'credit crunch' are limited to what they can borrow from the credit union which generally speaking wouldn't fund the cost of bridging the proposed nine year gap. Let's take a quick look at the arguments for and against.
Arguments
in favour

of a scrappage scheme
The Irish motor industry has already lost 10,000 jobs (a fall from 45,000 to 35,000). Industry representatives say that current sales statistics if repeated next year will only sustain 25,000 jobs meaning another 10,000 will be lost.
A scrappage scheme might only lead to an additional 10,000 new cars being sold but this would in itself be a significant help to an industry already on its knees.
A scheme funded by 100 million euro and co-financed by the industry would be revenue neutral with no net cost to the exchequer. The revenue would benefit from bringing sales of new cars forward with an increased VRT take in the sort term.
It's the environmentally friendly thing to do! A 10 year old used car car today creates 200 grammes of CO2 per kilometer travelled whereas a cleaner, greener replacement new car would save 70 grammes per kilometer for the rest of its life on the road.
Arguments
against

a scrappage scheme
Some commentators claim that the Irish motor industry like the economy as a whole was operating in a bubble and that it needs to stabilise itself without a stimulus package.
Because the manufacturing process of a new car creates more CO2 that the actual running of it, taking older cars of the road and encouraging the manufacture of new ones is not an environmentally positive thing to do.
As Ireland doesn't have an indigenous car manufacturing industry, a significant portion of the money spent on the purchase of a new car leaves the country. In times of recession, we should be trying to support truly indigenous industries that will benefit the economy in a multi-layered fashion.
The money would be better spent on a 'Car Enhancement' scheme. This scheme would focus on modifying the existing national fleet in an effort to make it more environmentally friendly.
What do you think?
JavaScript needs to be enabled for polling to work.
Online Surveys by Constant Contact.