The latest car costs bulletin from AA Ireland was gloomy reading when we got to work last week. Nearly €650 a year extra to run a compact family car than it did last year' Ouch!
Though there was actually a small drop in the average price of a car, pretty well everything else had gone up. Insurance a little bit, servicing a bit more, financing (when you could get it) also pricier.
But fuel is the big culprit, up from an average of €2,000 a year to €2,301 (did you realise that you're sloshing that much go-juice into your tank over 12 months? Definitely time to invest in a Motorcheck Topaz Fuel Card).
Got us to wondering where we sit on the fuel price league? We surely must be near the top, right? Well, hey, feel better' Ireland is actually 15th out of 28 countries in petrol prices. Ours is on average 1.52, Norway the most expensive at 1.84, and Estonia the cheapest at 1.25 (figures courtesy AA Ireland). And for diesel, well, we're 13th at 1.43, against Norway at 1.73 and Luxembourg at 1.19.
(Please do NOT tell Minister Noonan, who might slap on a bucket of extra tax to get us in the 'douze points' position over Norway!)
Meanwhile, it's nice to know that Toyota is thinking of us poor motorists and the stress we're suffering day by day. Among a list of new safety technologies being developed by the Japanese company is a health monitor built into the steering wheel, aimed at giving us advance warning of heart attacks and other nasty events.
Bill Ford visits Cork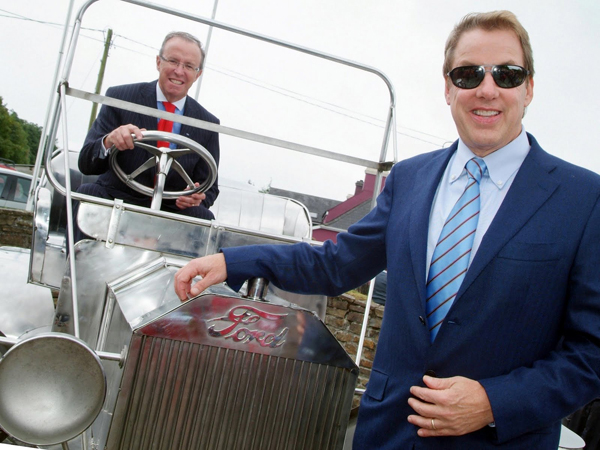 Certainly looking like he doesn't need anything in that line is Bill Ford Jr (William Clay Ford on his birth cert), who took time out while on a private trip to Ireland to unveil a plaque in Ballinascarthy, Co Cork, commemorating the Ford family's connection with the village. He had lunch with locals and some relatives. And since he was only down the road, Ford Ireland's boss, Eddie Murphy, motored in to toot a Model T horn. And to remind us again that the Cork company is the only Ford business in the world left with the founder's full name.
As it happens, in Ford of Britain's current series of historic pictures to commemorate the company's centenary, there's the 1902 Ford 999 that the same Ol' Henry used to race and break speed records in. Lotus supremo Colin Chapman is aboard in the pic, no stranger to speed stuff himself.
Connacht Rugby moves into the Fast Lane
Mazda moved west with its moneybags to announce the investment of €1.5m in sponsorship into Connacht Rugby. The company's transport was a suitably-liveried MX-5, and though its toughened suspension was well able to manage the loot in the boot, there were some sharp intakes of breath when three of the Connacht heavies loaded onto the 2-seater for the photoshoot. We hear there were four definite impressions in the sod when the whole thing was over!
New Cars Launched this Week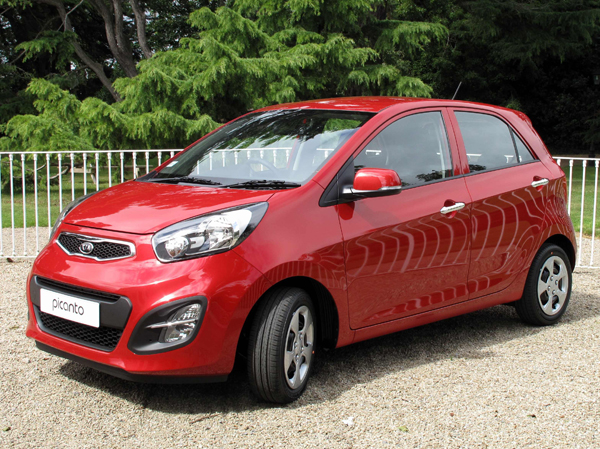 A couple of local launches last week had kissing cousin connections. The first was Kia's new Picanto, looking a lot more car than its predecessor and possibly going to bump upwards the brand's already respectable 11 percent share in the city car segment.
Then there was Hyundai's new i40, with the local distributor's MD Stephen Gleeson at its presentation reminding that his brand also owns Kia. (Wonder what the conversation is like when he and Kia Ireland's James Brooks sit down over a game of poker? "I'll see your Veloster and raise you a Rio.")
The i40 is a serious tilt at the hegemony of Avensis/Passat/Mondeo/Insignia in the D segment. It's a tough dogfight, but the 66mpg and 113g/km give the Korean a decent shot coming out of the sun. And then there's the 5-year Triple Care scheme, against which none of the current top guns fly close.
Top Gear Caught Tinkering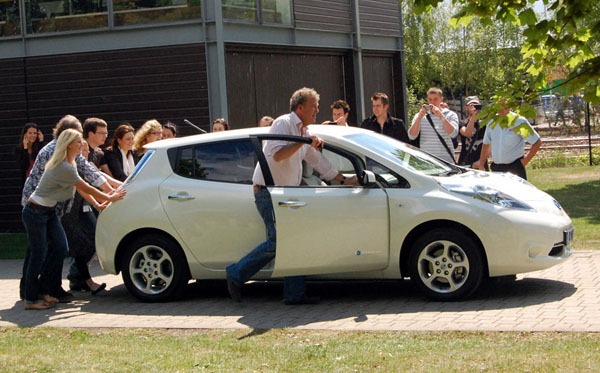 Flying very close to the sun, however, is BBC's Top Gear programme. Not content with angering Mexican car workers in February, Clarkson & Co have most recently made Nissan furious by 'nobbling' a Leaf EV so that it would run out of charge in the middle of nowhere. (Well, in the middle of Lincoln, which is probably the same thing.)
They got caught because the Leaf was automatically recording and transmitting to Nissan what they were at. We wonder if our learned friends are sharpening their quills, like they did in 2008 over TG's treatment of the Tesla?
Meanwhile, Frankfurt looms ever closer. We're breaking in a new pair of walking shoes.