Years built: 2001 to 2009
Bodystyles: four door saloon, five door estate
What is it?
With Jaguar's new XE saloon getting its first public airings over the next few weeks, you're going to be hearing a lot about how Jaguar's previous stab at creating a BMW 3 Series rival was a total flop, a flop known as the X-Type.
Now, that's a little bit unfair. It is true that Jaguar geared itself up to produce X-Types by the hundreds of thousands and ended up barely selling 50,000 a year. Worldwide. The maths behind that triggered the financial crisis at Jaguar that ended up in it being sold, alongside Land Rover, to Indian conglomerate Tata. Former owner Ford got its fingers well and truly burned and it's only in the last couple of years that Tata has nursed Jaguar back to full financial health.
Blaming that all on the X-Type is, as we said, a bit unfair. Its biggest miss-step was its styling, which was too reverential to Jaguar's past when the sorts of people who buy BMW 3 Series (and Audi A4s and Mercedes C-Class) are looking to the present and the future. It also didn't help that everyone soon knew that it was basically a Ford Mondeo under the skin.
Are Jaguar X-Types reliable we hear you ask? We think it makes a cracking purchase, once you follow a few basic rules, and with the hoopla that's going to be surrounding Jag over the next few months (the XE, the F-Pace – its first ever SUV and a starring role in the new James Bond film…) there will certainly be a warm glow of fuzzy feelings about owning one.
Which one should I buy?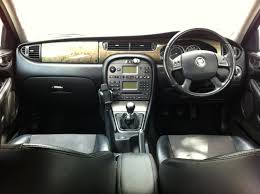 There are a couple of simple rules about buying an X-Type. One is make sure it's a post-2003 model. The early build ones had some issues (which we'll come to in a moment) and after the 2003 model year, these were sorted and quality took a big jump up. Better yet, go for a post-2007 one. These got a facelift which amounted only to minor tweaks but which cleaned up the styling a lot. Either way, pick your colour and wheels carefully, and don't buy one with cream leather and polished walnut wood inside – it makes it look like your Grandad's Jag. Find one with black (or better, red) seats and the optional carbon-fibre finish inside. That makes it look and feel much more up to date.
As for engines, the early ones had big engines only – 2.5 and 3.0 V6 petrols, and later a sleeved-down 2.1-litre V6. Four wheel drive was optional and standard on the bigger engines. You're better off going for a diesel one though – these use Ford's 2.0 or 2.2-litre TDCI engine and are powerful and frugal, if a touch noisy by modern diesel standards. If you can track down one of the super-rare estates, you'll have a really handsome, practical Jag that can do service as a family hauler as well as a junior executive express.
How much should I spend? Around €11,500 for a 2009 2.0-litre diesel
Here's one we found:
2007 Jaguar X-Type saloon 2.0 D Sport, SIMI registered dealer, 150,000km, one owner, €12,450.
What goes wrong?
By and large the X-Type is a robust car – being based on the second generation Mondeo helped a lot in that regard making Jaguar X-Types reliable. Early build cars (2001 to 2003) suffered a lot of problems with suspension and gearboxes, so it's probably best to just avoid these, even if they may look like a bargain. A quality shake-up at Jaguar's plant in Liverpool where the car was built (it builds the Land Rover Discovery Sport and Range Rover Evoque now) sorted most if not all of that.
The clutch on manual cars can give trouble, and anything giving off a cacophony of whines or clunks from anywhere under the body should be avoided. Rattling steering is not uncommon. Electrical problems are pretty much de rigeur on mid-2000s executive cars, and the Germans are just as culpable in this regard, but check and make sure all the buttons and displays work as they should. As ever, insist on a full service history and if it's not there, be highly suspicious of dodgy after-market maintenance. Many owners assumed that the links to the Ford Mondeo meant you could get away with using cheap Ford parts – only partially true, sadly.
Anything else?
The X-Type was originally launched with four wheel drive, and while that was often dropped on later models in favour of fuel-saving front-wheel-drive, a four-wheel-drive X-Type makes for an uncommon Audi quattro rival. Given the weather we've been having lately, that may make one a good purchase these days. Jaguar often promised that a sporty R version was coming, to rival the BMW M3, but it never happened meaning that the 3.0-litre V6 is the hottest X-Type you can buy. To be honest, you're probably just better off with the 2.2 diesel instead – it's pretty much as quick in real-world terms. Finally, if you can find an estate one, you're buying a tiny piece of Jaguar history – it was the first Jag to be worked on by its now chief designer Ian Callum, the man who went on to design the XF and XJ saloons and the gorgeous F-Type sports car. Not to mention the new XE saloon, which is where we came in…
But when you've found your perfect X-Type, don't forget to get its history checked out by Motorcheck.ie.