If you've nothing planned this Wednesday evening and fancy a bit of 'carspotting' you might like to check out the latest 'Prestige Auction' at Merlin Car Auctions in Naas, Co. Kildare.
Bring your VISA card and you might even bag an Audi R8 at a bargain basement price! Sold new with a price tag in excess of 200,000 Euro, the people in the know at Merlin expect the car to fetch between 90 and 100,000 - a steal!
Even in the heady days of the Celtic Tiger the R8 remained an aspirational car. There were 18 registered in 2008, 0 in 2009 and 1 in 2010 (a demo car that I had the privilege of driving earlier this year) and with none registered as UK imports in the last three years it looks like the R8 was destined to be a UK footballer / popstar's badge of honour (Cheryl Cole sold hers recently).
Merlin have run 5 'Prestige' car auctions so far this year. Some of the more flamboyant cars to be sold included 2 Aston Martin DB9's, a Bentley Continental, a Ferrari S430, numerous Range Rover's and a plethora of Porsche 911's.
Who's Selling?
Most of the high-end cars are sold on behalf of finance houses (the cars are either returned voluntarily to the bank for disposal by the owner or in the case of a loan that's gone into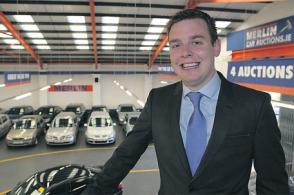 default they may be repossessed) but a small number of car traders will also submit a car or two when there's a high profile auction like the one coming up this week.
Either way any finance outstanding on the car will be removed once it's sold at auction leaving the successful bidder with a bargain and the previous owner with a bill for the difference.
Who's Buying?
According to David Byrne, MD at Merlin Car Auctions, the type of individual buying the prestige car is someone with a passion for the exotic and a bargain in equal measure.
However the Audi R8 is a special car and he hinted that there may be more than one famous face in the crowd on Wednesday night.
The complete range to be auctioned is available to see at http://www.merlincarauctions.ie/prestige but if you're thinking of making a bid be sure to bring a 500 Euro bidding deposit (yes - it's refundable) with you.
Bear in mind the road tax on the R8 is over 2,000 Euro per annum but if you're going to drive an R8 I think it's fair to say that this would be the least of your concerns.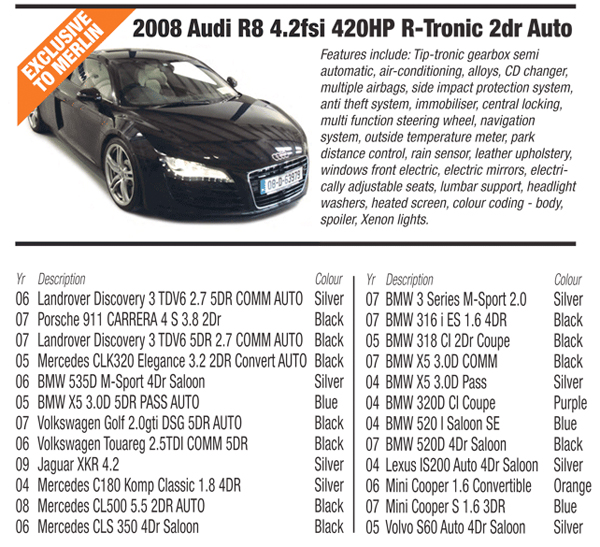 Results
Listed below are some of the results of this evenings auction.
07 E200 - 17.2K
06 CLS 250 - 22K
06 350 - 23.5K
08 CL500 - 71K
08 S500 - 47K
07 S320 - 37.5K
05 A4 CABRIO - 13.1K
08 A6 2.0TDI - 23.5K
08 R8 - 76K
04 520I - 7.3K
07 520d - 17.1K
04 X5 - 11k
90 911 - 10.4
03 CAYENNE - 7.4K
06 TOUAREG COMM - 9.4K
07 GTI DSG - 14.4K