The time is right for car buyers to bag a bargain as new and used Car Sales continue to soar, but consumers should beware the pitfalls which still exist
The second new car registration period of 2014 is now well underway. July was the second busiest month of the year after January with more than 16,250 new cars sold in that month alone, whilst August finished 28% up on last year with 4,708 units sold according to the latest new car sales figures released this morning by Motorcheck.ie.
Sentiment in the new car market is hugely positive as new car sales for the year to date are up 26.95% (86,727 units) against 2013 and commentators expect sales to be in excess of 93,000 units by year end.
However the trends emerging from the new dual registration system seem to show that after the July boom sales fall off sharply in the remaining months of the year. This is great news for the new car buyer looking to bag a bargain before year end. Dealers keen to keep riding the crest of the wave but will be very aware that sales of new cars in the coming months will fall sharply so buyers should expect a little more room to maneuver when negotiating.
Supply of Used Cars
Buoyant new car sales also means lots of trade-ins arriving on dealer forecourts. What this translates into for used car buyers is choice, which always allows prices to deflate a little and increases the buyers scope for haggling. Not to mention the impending winter months also means dealers are keen to move this stock before the slow Nov-Dec period. So for used car buyers the coming months will also be ripe with opportunity to bag that bargain.
Great deals are there to be done, but there are underlying dangers which car buyers need to be aware of according to car history experts Motorcheck.ie. As the market picks up, but values start to fall, those who care not for the rule of law will try every dirty trick in the book to maximise the asking price for their cars, while cutting back on their own investment.
"It's great to see the new car market back on its feet and this is also very positive for the used car market as buyers have more choice and affordability. But as we reach a time of year where great deals are there to be done we would urge buyers to exercise caution make sure they perform some basic background checks before they part with their hard earned cash".
Be wary of any outstanding finance
Finance is the first and most concerning thing any second hand car buyer should be worried about. According to our Motorcheck.ie figures for this year so far, Approximately 1 in 6 second hand cars surveyed still had outstanding finance owing on it. That means that if the previous owner defaults on their repayments, even though you have done nothing wrong, the car can be repossessed without any recompense to you. Buying a car with outstanding finance could be the most costly decision you ever make, so get any potential purchase checked first. If there's money still owing on, walk away.
One of the best ways you can protect yourself is to set a realistic budget for the car you want. If you go out wanting a high-end motor for tiny money, you're already painting yourself into a corner and are more likely to come across something dodgy. A little time spent researching the realistic asking prices for the car you want will be time well spent, and it will allow you to instantly recognise when a car is on sale for a too-low price. As the old saying goes, if it looks too good to be true, it probably is…
Speaking of looking, it's always best to look at cars on as dry and sunny a day as possible, so that you're more likely to get underneath and have a good poke around inside and out to check its condition. If you're buying from a private seller, always arrange to meet at their house, during daylight hours. If they try to meet you in some pub car park or similar, or only agree to meet up after dark, put the phone down and move onto the next advert.
Scrutinise the paperwork
When you do meet, make sure all their paperwork matches. It's always nice to be given a big, thick sheaf of papers and receipts to inspect, but you really actually have to inspect it – make sure all the numbers and addresses match (with reasonable exceptions made for those who may have moved house while they owned the car…) and ensure you aren't just being handed some random paperwork in the hope that you won't properly inspect it till afterwards.
While you're there, check the condition of the car carefully and see that it matches what would be reasonable wear and tear for the indicated mileage. While the NCT has finally agreed to start publishing the last 3 mileages of the cars it inspects on NCT Certificates, we won't start to see that for a while yet and in the meantime, approximately 1 in every 5 of the cars Motorcheck does a history check on have mileage discrepancies. If the number on the odometer is low, but the seats look knackered and the steering wheel is shinier than Mr. Muscle's coffee table, be suspicious.
It's always a good idea to ask to see the spare keys for the car and ensure that they fit and work properly. A lack of a spare set, or multiple keys on the key-ring for various doors as well as the ignition, could potentially be a sign that the car has been stolen. While there can be an innocent explanation too, your antennae should be up at this point and you should be asking questions.
Finally, Checking the condition should also include a close inspection of the bodywork, looking in the boot, under carpers and around the rubber seals for overspray and badly repaired damage. Motorcheck.ie warns that there are more than 50,000 write-offs on Irish roads every year and as many as 60% these are repaired and put back on the road. So make sure you keep yourself both well-informed and safe whilst shopping for that bargain.

New and Used Car Sales Stats Summary (Year to date – August 2014):
• Most commentators predict the total number of new registrations for the full year are to top 93,000
• Highest August monthly number of new registrations since 2010 (4,950 new registrations)
• Highest year to date figures since 2008 (137,082 new registrations)
• Used car transactions continue to rise with ytd 2014 the at the highest level in the last five years
Top ten Makes (Year to date – August 2014) figures
Top ten Models (Year to date – August 2014) figures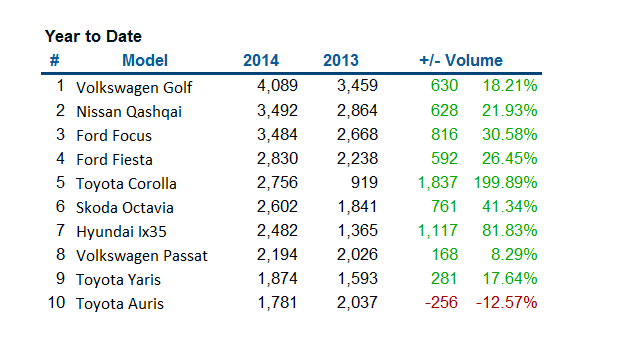 YOY Used Car Transactions (Year to date – August (est.) 2014) figures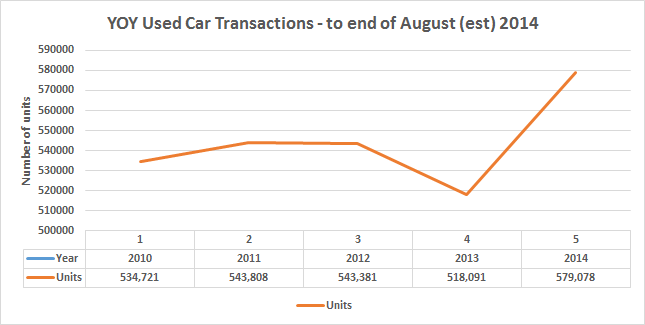 end.