Another month down and it's good news for the motor industry! The latest statistics from our new car index show that the number of new car sales has increased by 19% for August.
A total of 3,693 new cars were sold in August versus 3,093 last year. This brings the number of new car sales for the year up to 68,300, only 7.5% behind 2012's total of 73,837 for the same period.
It's encouraging to see a sustained increase in new car sales for August. The 132 number plate has injected confidence back into the sector with consumers now starting to take an active interest in the overall financial benefits of buying a new car. We wrote previously about the TCO (Total Cost of Ownership) being an important consideration and it's true that for some of us - buying a new car is the sensible option.
One thing's for sure. The used car market needs us to start buying new again! An increase in the number of new cars going on the road will benefit Irish buyers over the coming years as the local supply starts flow again and our reliance on the UK market will subside.
Here's a list of the Top 10 Manufacturers (for New Car Sales) last month.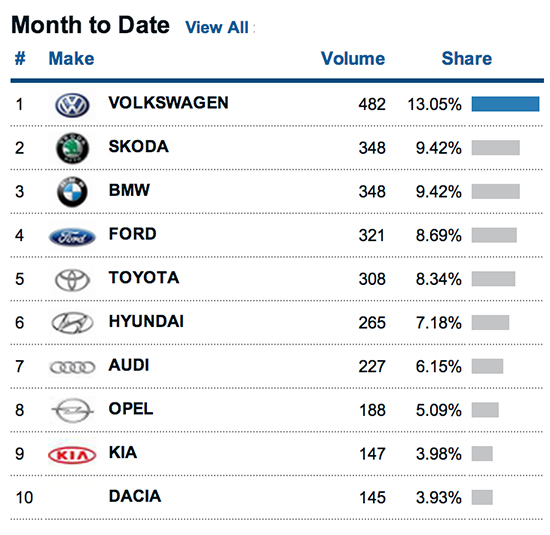 The BMW 5 Series was the top selling model with 239 models sold in August equating to a 6% share of the market. In second place came the Volkswagen Golf with 163 (4.4%) units followed by the Skoda Octavia with 137 (3.7%) sales.
A new entrant to the top 10 was Dacia who posted an impressive 120 sales for its Duster model putting it in forth position with 3.3% market share.
The Top 10 Models registered last month looks like this.