New car sales for 2013 down 6.4%
But with used car imports up 25% year on year, experts say we need to be vigilant when buying used cars
The latest figures from Motorcheck.ie for new car sales in 2013 show the Irish market is down 6.4% on 2012 figures. The industry had predicted total sales of 75,000 units for 2013 but the final figures will be almost 1,000 units off this target.
It's not all doom and gloom however as new commercial sales finished the year 3% up on 2012 underlining the emergence of green shoots in the business world.
The used car market was also very buoyant with overall sales of used cars on the up and a huge 25% increase on used vehicles imported into the country during 2013. However experts warn that motorists need to be vigilant.
With a shortage of used stock in the country, unsavoury practices are more evident than ever in the used car market. At Motorcheck we encounter the horror stories on a daily basis, and now more than ever consumers considering the purchase of a used car need to protect themselves from clocking, badly repaired write-offs and vehicles under finance.
News also emerged today that 5,000 cars were towed from NCT centres during 2013 because they were deemed too dangerous to be driven. Irish Motorists would be wise to be cautious with any used car, regardless of whether it's an Irish car or imported from the UK.
So, with 2013 behind us and 2014 to look forward to, just who were the winners and losers in the Motor Trade?

Volkswagen continue to take the plaudits for Top Manufacturer and Top Make, with the VW marque a significant 2.5% ahead of the next highest manufacturer (Ford) in new car registrations.  The VW Golf is the market leader with sales for the model up 5% year on year. The only other model to increase its sales in the Top 5 was the Ford Fiesta (+12%).
Overall registrations for 2013 are up 4.8% - accounting for all new and used vehicles registered in the state during 2013.
New Car Stats Highlights:
New car sales down 6.4% Year on Year
Volkswagen was the top manufacturer, followed by Ford, Toyota, Hyundai and Nissan respectively
SEAT was the biggest winner with a massive 61% jump in sales year on year whilst Hyundai had the biggest increase in sales for brands in the Top Ten with a 12% increase
The Volkswagen Golf was the top model followed by the Nissan Qashqai, Ford Focus, Fiesta and Volkswagen Passat respectively
New Commercial vehicle registrations are up 3% over last year with the number one and number  two spots in both Make and Model going to Ford and VW respectively (Ford Transit and VW Caddy)
Used Car Stats Highlights:
Used car imports are up 25% with 10,000 units over 2012.
The Ford Focus, Audi A4, Volkwagen Golf & Passat and the Toyota Avensis were the top five models imported from abroad during 2013 whilst the BMW 3 Series and 5 Series both appeared in the top ten.
Used Commercial imports are up a significant 68.5% over 2012 with Ford and Citroen carrying the top two spots for both Make and Model respectively (Ford Transit and Citroen Berlingo)
Whilst 2013 results performed largely as expected it is still not near the level of sales required to sustain the current motor industry. Hopes are high for 2014 being a return to previous years with sales approaching the 85K mark.
New Car Sales Top 10 Manufacturers 2013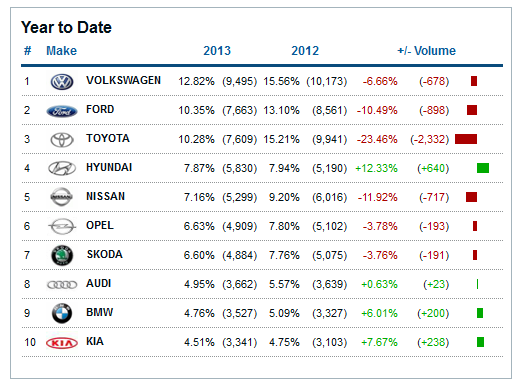 Used Car Imports Top 10 Manufacturers  in 2013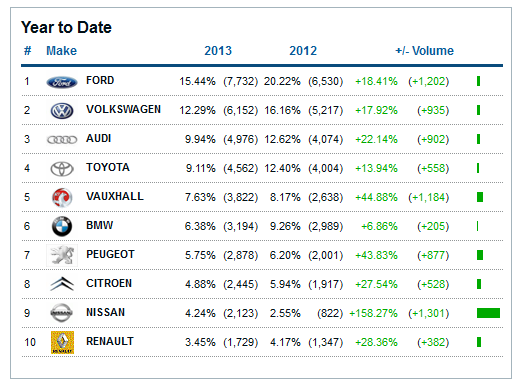 Update - Car Sales for the first 11 days of Jan 2014 are up massively against 2013. Hear more about the increase below: