Safety 1st.
There was an unfortunate confluence of events as we moved into the final days of 2013. First, and most worryingly, came news that 28 more people were killed on Irish roads in 2013 than in 2012. Just before that came word from the independent crash test experts EuroNCAP that two significant cars; the BMW i3 and Ford EcoSport, had failed to score the expected top-mark 5-star safety score.
So, is this a perfect storm of poor road safety and cars becoming less safe? Sadly for the tabloid headline writers, but happily for the rest of us no, it's not. There are some worrying trends in both bits of news, but it pays us well to have a closer look at them.
Of the total number of people killed on our roads in 2013, one third were pedestrians, cyclists or motorcyclists – in fact, motorcycle deaths doubled compared to 2012. Of all of the deaths of vulnerable road users (which includes pedestrians, cyclists and motorcyclists) 50 per cent took place in the hours of darkness. That tells us a number of things, and the primary one is that our road network is still staggeringly bad at protecting us in the case of an accident. Footpaths are often narrow and poorly maintained, cycle lanes are sparse and often have to share space with buses and once you're away from the major urban centres, paths of any description simply disappear. A sad legacy of decades of neglect when it comes to planning is that for many country dwellers, the only source of recreation is the pub and for many of us, that can mean a perilous walk to and from along narrow, dark country lanes. It's little wonder that so many are killed.
In terms of those killed behind the wheel, the stats are even more worrying because the vast majority are young men who are killed in single vehicle accidents. Staggeringly, one fifth of those killed were not wearing a seat-belt. That suggests either enormous levels of bravado out there, or more concerning, the potential for using a car in a suicide bid. It's a sad and terribly fact that the pressures placed on people by the recession and the bail out have seen a rise in suicides, and it's a particularly prevalent response among young males. Dr John McElwain, Professor of trauma orthopaedic surgery recently told the Irish Examiner that as many as 10 per cent of single vehicle accidents could be categorised as suicide, or at least self-harm, bids but the figures suggest that even Dr McElwain could be underestimating the problem.
Which brings us back to the crash test results and the question of whether our cars are becoming less safe at a time when we need them to be safer than ever.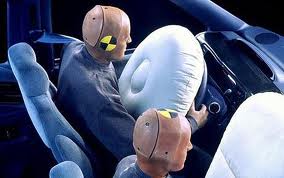 No, they're not – at least not really. The problem is that the EuroNCAP test has changed and altered a great deal over the years, and a larger proportion of a car's score now comes from seemingly minor electronic systems such as a seat-belt warning reminder for the back seats or some such. There are also significant weightings in the score for such things as the pedestrian impact score, so a relatively low score in one area can occasionally drag down the overall mark for an otherwise pretty safe car.
That's certainly the case for the BMW i3, the German firm's first ever electric car. It actually scored 86 per cent in terms of adult occupant protection, but its total mark was hampered by a (surprisingly) poor score for the pedestrian impact test and the fact that it doesn't include either a rear seat-belt warning chime or a speed limiter system. In fact, given that the i3 uses a core of high-tech carbon fibre for its passenger cell, it should prove to be staggeringly safe in a collision. If you don't believe me, check out this famous video of BMW F1 racer Robert Kubica crashing his carbon-fibre-bodied racer at the Canadian Grand Prix in 2007. He walked away with only concussion… http://www.youtube.com/watch?v=SiOPWFvu0Po
In the case of the Ford EcoSport, Ford candidly told us that the fact that the car scored four stars and not five is simply down to cost. It actually out-scores the much more expensive BMW for adult occupant protection (93 per cent) but again, pedestrian and electronic safety aid scores undermine it. Ford admits that it could be a five-star car, but would require extra investment that would push its purchase price up to an unacceptable level. You pays your money and takes your choices…
So does that mean that the EuroNCAP test is now not worth considering? No, not at all – it's just not enough to simply skim through the star ratings to see which car is the safest. You have to delve down into the details of the test results to see which specific areas in which the car did well, and it's worth educating yourself as to precisely what and how EuroNCAP tests the cars for – it is after all only a laboratory test and therefore limited in its outlook.
With that in mind, if you really want to keep yourself as safe on the roads as possible, it's worth remembering that there are only two car makers who have arrangements with police forces to investigate and examine serious accidents involving their cars. Those two companies are Volvo and Mercedes-Benz, something that should come as no surprise. It's also no surprise that Volvo can offer you system which detects pedestrians wandering into your path and can slam on the brakes to prevent a collision, while Mercedes has infra-red technology that can not only detect objects ahead of you on dark, unlit roads (way beyond the range of the headlights) but can even tell you whether that object is an animal or a human. Expensive? Yes, but even safety has a price.