When I heard that ESB had appointed a Managing Director to a newly formed division of the company entitled 'Electric Vehicles' I felt a subtle 'shift in gear' for the motor industry. Could this mark a significant moment for the  introduction of electric cars on a national scale? Are we about to dispel the notion of electric powered vehicles as a 'concept' to a grounded 'reality' that will shape the face of motoring in Ireland for the next century?
It's only been three weeks since Paul Mulvaney (pictured above) was appointed to the position and already we're starting to see the beginning of a new and what promises to be an exciting chapter in Ireland's motoring history. I had an opportunity to meet with Paul and hear first-hand about ESB's ambitions to make Ireland a significant contributor to the development of electric motoring at home and across the European Union.
We chatted about the levels of financial support on offer from the Government to those hoping to purchase an electric car and what's being done to further the research and development of the required facilities to run them. The targets for the number of electric vehicles we can expect to see on the roads and what challenges face the ESB over the short and medium term.
Government Support
It's clear that a significant role in the success of the electric vehicle will be its purchase price and the ongoing running costs. In its recent budget the Government stated its support for the deployment of electric vehicles onto Irish roads with a VRT exemption for the next 3 years.
Also announced was that there will be a new grant for half the costs of the batteries for the first 6,000 cars on Irish roads. This is expected to be in the region of 5,000 Euro per car which represents a serious commitment to making the electric car as affordable as possible.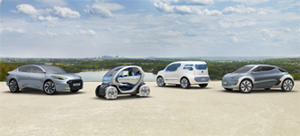 The government is on record as saying it intends to have 10% of Ireland's national transport fleet (250,000 unites) converted to electric vehicles by 2020. It will take time to develop the infrastructure but in the shorter term they expect to have 6,000 vehicles within three years followed by a sharp increase as vehicles and the necessary charging points become more readily available.
Competition for the next generation of electric vehicles is strong between the European member states. To help Ireland get a foothold, the Government is working closely with both the manufacturers and the relevant stake holders to the extent that it has signed two separate Memorandums of Understanding with Nissan-Renault and ESB. This memo was drafted in an effort to encourage the introduction of electric vehicles to the Irish market as soon as they are available.
The ESB And The Electric Car Infrastructure
ESB has committed to providing the infrastructure for a radical overhaul of our electricity system so that electric vehicles, once available can be charged on the Irish system. This infrastructure whilst built and maintained by ESB will be available to all electricity providers. This is no small task and will require that ESB provide a range of charging facilities to cater for three very different requirements.
Home Charging - a facility that will allow the car owner to charge up directly from the house supply. Using this facility one could expect to achieve a full charge over 6 - 8 hours depending on the vehicle involved.





1,500 charge points to be introduced over the next three years

Destination Charging - a quicker charging point that will achieve an 80% charge in 1 to 1.5 hours half the time of a home charge
En-Route Charging - Akin to filling up at a petrol station, there is a possibility that we will see high speed charging points available at set locations where a battery could be charged in a matter of minutes (20) as opposed to hours.
Paul and his team will be responsible for rolling out 1,500 charge points over the next three years and he expects to have the first active point in place outside ESB Head Office on Merrion Square in January with a further twenty or so in place by March of 2010.
'Billing' presents its own set of challenges and the company is looking at everything from smart cards with a standardized bill across Europe to a pre-paid model similar to mobile phone top-ups. It may even be possible to book a charging slot online and pay directly by credit card before you pull up to a charging point.
Speaking about the suitability of Ireland as a live test centre he says, "As a small island nation with one management company in charge of deploying the grid, Ireland will make an excellent test-bed for the rest of Europe".
Just How 'Green' Is Our Electricity?
Critics in the past have scoffed at the idea of electric cars claiming that the source of the electricity required to charge them would be a greater pollutant than the 'gas-guzzling' cars we already use. Not so, says Paul. He points out that if we introduced electric cars to the grid as its generated today the reduction in CO2 emissions obtained from 'Well to Wheel' would be in excess of 50%. That's before the introduction of SMART homes and technologies that would give us the ability to charge our cars overnight using excess energy generated from wind power.
Clearly committed to an environmentally sound 'grand plan' (ESB as a company aims to be carbon neutral by 2035), Paul mentioned that his department is already looking at ways to offer a 'second life' to the batteries that ten years down the line will be removed from the electric cars. He hinted at the possibility of using ex-car batteries in our homes to take advantage of cheaper, cleaner electricity produced overnight and stored for use during the day.
The company has a number of next generation vehicles on order and is looking forward to sharing their experiences with anyone interested in learning more. Currently working with vehicle manufacturers, academic institutions, The Department of Energy and The Department of Transport, Paul is clearly enthusiastic about what's to come!