Years built: 2012 to today
Bodystyles: Five-door crossover
What is it?
The first Dacia to be introduced to these shores, under the 'shockingly affordable' advertising banner, the Dacia Duster has gone on to be something of a critical and commercial hit. While it's true that it's a little cheap and crude in places, and uses an older generation of engines and electronics in order to keep the price down, there is no getting away from the fact that it undercuts such rivals as the Nissan Qashqai and Seat Ateca by as much as €10,000 new. It also makes a great second hand purchase, with rugged reliability prospects (not least because there are so little optional extras to go wrong) and a lengthy warranty, with up to five years cover being available as a cost option from new.
Which one should I buy?
There's an apparent simplicity to the Duster lineup which should, in theory, make your choice rather easy. There's only one engine option — the familiar 110hp 1.5 dCi turbo diesel which has been in use in various Renaults and Nissans since Moses was in short pants, and with the idea of the Duster being all about minimal cost motoring, the temptation is to keep things simple and go for the cheapest Alternative-spec model.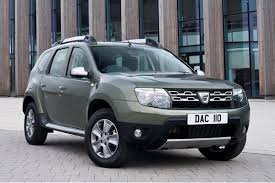 Not so fast, though. That Alternative spec is really, really basic. Unlike in the UK, where the most basic model didn't even at first come with a radio, Irish market Dusters did at least have that, but there's really not much else — you will be winding your own windows in the back and adjusting your side mirrors with little bits of plastic, not electric motors. That said, if what you want is a proper, no-nonsense workhorse, then the most basic Duster is absolutely ideal. You'll never mind getting it dusty nor scratched, and it makes a great utility vehicle.
For those of us thinking of using one as a daily car, though, it pays to shop a little higher up the Duster price scale and get a Signature model instead, and most definitely get the four-wheel drive model. Not only does the extra grip and traction of the 4WD system make the Duster genuinely useful and capable on rough roads, there's also safety to consider. Early versions of the Duster only came with life-saving electronic stability control on the most expensive 4WD model, so for safety's sake, that's the one to go for. It doesn't hurt that it also comes with everyday luxuries such as Bluetooth phone connection and nicer interior upholstery.
A facelift in 2016 brought along slightly revised styling (new grille and lights, really) and some interior updates including the option of a seven-inch touchscreen.
How much should I spend? Circa €13,000 will get you a 2014 Duster 4WD.
Here's one we found:
2014 Dacia Duster 1.5 dCi Signature 4WD, 34,000km, one owner, €12,950 from a main dealer.
What goes wrong?
Actually very little. Sceptics often point to the fact that Dacia is owned by Renault, and assume that will mean unreliability and dodgy build quality (which is more than a touch harsh on Renault, to be honest) but in fact the reverse is true. Dacia had built up a solid reputation for reliability and quality across Europe long before it ever launched as a brand in Ireland (it did especially well in Germany, which should tell you all you need to know) and it's worth remembering too that all of its components have at one time or another seen service in various Nissans as well as Renaults.
That said, you do need to keep an eye on the 1.5 dCi diesel engine. In general, it's a reliable and long-serving unit, but there have been reported issues with the diesel injectors, the turbos (which can in rare circumstances blow, and send oil spewing into the engine, destroying the entire power unit) and the exhaust gas re-circulation valve, which can fail. Oddly, according to experienced owners, the trick to long exhaust gas re-circulation valve life is to make sure you don't change gear before 2,500 rpm…
Speaking of gears, the Duster uses a very low ratio for first gear in its manual 'box (no automatic version has yet been offered) so keep an eye on that, as inexperienced owners can often put too much strain on it, when they would be better off starting in second.
Finally, make sure you check carefully in the back, the boot and underneath for any obvious signs of damage from previous owners who, perhaps, didn't take the best care of their affordable 4x4.
Anything else?
Buying a used Duster is near-as-dammit the same price as buying a new one, and Dacia often has special offers in place to sell you a Duster on a zero-deposit finance plan, so you can walk out with the keys to your new car without spending a cent from your pocket. Certainly, with the Duster's strong residual value, it's worth doing your sums carefully before committing to buying either new or used.
And when you've found your perfect Dacia Duster don't forget to get it history checked by motorcheck.ie.