Years built: 2009 to 2014
Bodystyles: Five-door hatchback, four-door saloon
What is it?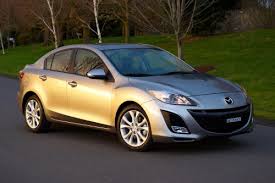 It's the second generation of Mazda's mid-size hatchback, replacing the original 3 and being, essentially, the spiritual successor to the old 323. Based on the same mechanical package as the Ford Focus, the 3 can rightly be regarded as a somewhat more reliable, and arguably more stylish version of the Ford, so it's always been popular with family buyers. High prices when new mean that it's much more of a bargain on the second hand market.
Which one should I buy?
There really are only two engines to choose from, as beyond the 1.6 diesel and 1.6 petrol, the only other options were big 2.0-litre engines and very few buyers ever went for those. Mazda had discontinued the previous model's 1.4-litre engine but seeing as that was (a) underpowered and (b) not very tax efficient under the then-new Co2-based tax system, nobody much minded.
The 3 was built on the so-called C1 platform, which means that it shares a lot of its structure and mechanical package with the second-generation Ford Focus and C-Max, and the Volvo C30, S40 and V50. There were just the two body styles — a practical five-door hatchback (which had a 340-litre boot) and a four-door saloon, which was arguably the better-looking version and which came with a larger 430-litre boot.
Overall cabin space is similar to that of the contemporary Ford Focus, so it's close to class-leading, and while the cabin does look a little plain and dark, the quality of construction is hard to beat. It's also a very good car to drive, with a sharp chassis and steering.
The 1.6-litre diesel is a familiar engine from the Ford-Mazda-Volvo-Peugeot-Citroen co-operation, and with 115hp and 270Nm of torque, performance is entirely adequate, with relatively low Co2 emissions of 115g/km. The 1.6 petrol is more rare in the diesel-obsessed Irish market, but it's a better bet for low-mileage drivers, although its high 147g/km Co2 emissions do mean that you'll be stung for tax every year.
How much should I spend? Circa €14,000 will get you a 2013 1.6 diesel.
Here's one we found:
2013 Mazda 3 1.6d Sport, 30,000km, one owner, €13,950 from a SIMI-registered dealer.
What goes wrong?
While the 3 is based on the same mechanical package of the (already quite reliable) second-gen Ford Focus, the higher quality standards at Mazda mean that the 3 is a little more reliable overall.
Watch for boot release catch failures when moisture gets in through worn rubbers, front fog lights are prone to damage, and early cars can see rust getting into the rear arches.
Diesels develop diesel particulate filter damage if the car has only been driven for low mileage, and it needs a steady diet of high-grade oil to prevent the cylinder head from sludging-up. If the car has been driven hard on bad roads, then there may be a rattle at the base of the windscreen where the instrument cowl is attached, while a similar rattle can develop in the high-level brake light mounting.
Alloy wheels are another corrosion hot spot, while the tyre pressure monitoring system is known to be troublesome. The tyres are also prone to premature wear on the 3, but that's mostly a problem for models with the bigger, heavier engines. Any clonks or knocks from the suspension are most likely to be the front drop links, which will need replacing.
Anything else?
There was, briefly, a 267hp 2.3-litre turbo MazdaSpeed model of the 3, but few, if any, were sold in Ireland. It is a blisteringly fast hot hatch if you can track one down, though. If you fancy a performance version without disastrous running costs, a few late-model 3s came with Mazda's 2.2-litre diesel engine in either 150hp or 185hp forms, which are very quick, but still very frugal. They have unusually high Co2 emissions for a diesel though — above 140g/km, and you'll probably have to go to the UK to get one.
And when you've found your perfect Mazda 3 don't forget to get it history checked by motorcheck.ie.