Years built: 2009 to 2015
Bodystyles: five-door estate
What is it?
With the Superb Estate, Skoda proved once and for all that NASA is wrong – deep space needn't be expensive. While the original Superb was effectively just a long wheelbase VW Passat, the second generation car struck out (not entirely successfully) with unique styling and a USP of big space and lots of comfort. The all-new Skoda Superb Combi (Combi is Skoda-speak for an estate) is being launched later this year in Ireland, which would seem to make this a good time to look back at the outgoing model and just how much car it can give you for so little money.
Which one should I buy?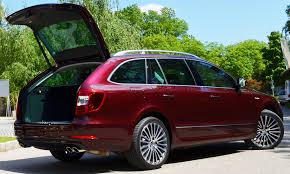 The best thing about the Superb Estate is that it gets away from the awkward rear styling of the saloon version, Skoda gave the saloon a clever (but ultimately rather pointless) boot that could be opened as either a saloon or a big hatchback, but finding the space for all the hinges meant that the styling always looked a bit lumpy and awkward.
The estate skips that issue by looking far sleeker and nicer, and has much more space to boot. Or indeed, in the boot. Frankly, if you can't fit everything you need to carry in the 600+ litre boot of the Superb Estate then you need to seriously consider getting a van.
They are a touch narrow though – the centre rear seat is really cramped, in spite of the massive leg-room for the outer rear seats. It's a consequence of the Superb being, somewhat surprisingly, rather closely related to the VW Golf – a fact that also means it has quite a small fuel tank, so even though the 1.6 and 2.0-litre diesels are decently economical, you will have to refuel them more often than you'd expect.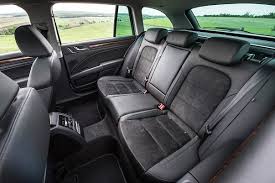 Actually, the 2.0-litre, 140hp diesel is the one to go for. The 1.6 versions came later and are more expensive to buy, and the 2.0-litre has useful extra lugging power if you're carrying big loads or towing. There's no major penalty in fuel consumption or emissions either.
How much should I spend? Around €13,000 for a 2010 2.0-litre 140hp TDI
Here's one we found:
2010 Skoda Superb 2.0 TDI 140hp Sport. 183,0000km, one owner, €13,695 from a dealer.
What goes wrong?
Flywheels and clutches are weak points if not properly maintained, so never buy anything without a full service history, while the suspension's tracking needs to be regularly checked or you're looking at excessive tyre wear. Small things like the fuel filler cap and the paint on the bumpers seem to be prone to damage or knocks too, so keep an eye on those – useful indicators of how well the car has been cared for.
The Superb's general strength and reliability (not to mention its cabin space) means they're often used as taxis or as family cars-come-vans for builders or tradesmen. Nothing wrong with that, but some will have cared properly for the car while others in that situation will have had dog's abuse. It won't be hard to spot the ones that have, and excessively high mileages and obvious wear and tear will be the giveaways. As ever, don't buy anything that doesn't come with a pristine service history.
Anything else?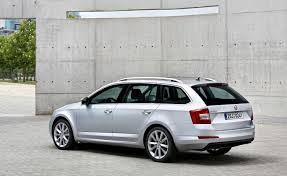 There were never really any far-out versions of the Superb estate. Almost every one you find will be a 1.6 or 2.0-litre diesel. There are a few (very few) 1.4 TSI petrols hanging around and Skoda Ireland informs us that a single solitary 3.6-litre four-wheel-drive version was imported for a singularly keen customer. If you come across that one, let us know.
Actually, the 2.0 TDI diesel 4x4 version is a particularly nice one to look out for, giving some proper mud, snow and gravel ability but without the extra running costs of a bulky SUV.
And when you've found your perfect Skoda Superb Estate don't forget to get hit history checked by motorcheck.ie.