Years built: 2007 to 2016
Bodystyles: Five-door crossover
What is it?
It was VW's first go at a proper 4x4 crossover (unless you count various jacked-up Golfs made mostly for the European market over the years) and a hugely successful one too – millions have been sold worldwide, and the model has been such a big seller that the new one, which goes on sale this summer, will actually be split into a family of four different models. The original Tiguan is still well worth a look though, and is an ideal starter SUV for families looking for something different to the saloon/hatch norm.
Which one should I buy?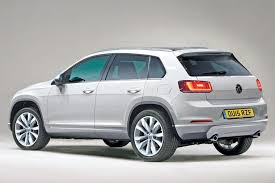 Initially, the Tiguan was mostly about petrol engines. Launched before the changeover to Co2-based motor tax, a lot of early Tiguans were sold with the 1.4 TSI turbo-and-supercharged petrol engine. If you can track down one of these pre-2008 cars, you've got yourself something of a bargain as you'll pay a mere €385 to tax it for a year – not bad considering that it's got quite high Co2 emissions by modern standards, and that power is a healthy 140hp.
Most Tiguans you'll find though will have the 115hp 2.0-litre TDI diesel engine and to be fair, it's a much better suited engine to the car. Fuel economy should work out at around 45mpg overall, and it's worth seeking out a car equipped with 4MOTION four-wheel-drive – there's only a small penalty in fuel economy terms, and while it doesn't turn the Tiguan into a Land-Rover-like mud-plugger (although such items as hill descent control were available) then at least it does make it more versatile when it comes to frosty or icy weather.
The Tiguan is quite practical overall too – although it's relatively compact, the boot is a useful 500-litres and there's plenty of space in the back seats. Families with lots of kids might find it too narrow for multiple child car seats though.
Comfortline spec is the one to go for as the extra toys really lift the ambience of the slightly dark and dour cabin. The rare R-Line version looks great, thanks to a sporty bodykit, but the slightly lower suspension means it's not as comfy as a standard Tiguan.
How much should I spend? Around €12-14,000 for a 2010 2.0 TDI
Here's one we found:
2010 Volkswagen Tiguan 2.0 TDI Manual 133,000km, two owners, €14,450 from a VW main dealer.
What goes wrong?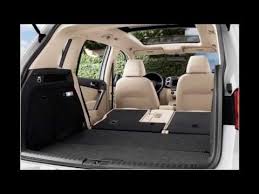 The Tiguan was one of the first mainstream cars to be offered with an electronic parking brake and these can be fragile, so check that the car holds itself firm on a steep slope and that there are no brake warning lights. Door handles can stick and check that the air conditioning system blows both hot and cold, although thankfully any faults there are usually just a switch issue and not a major air-con problem. Of course, the Tiguan diesel models use the VW EA189 engine which has been at the centre of the recent emissions scandal, so if you buy one now, chances are it will have to be brought back in for modification to the electronics system later this year. VW has promised customers, though, that there will be no change to fuel consumption or performance.
Anything else?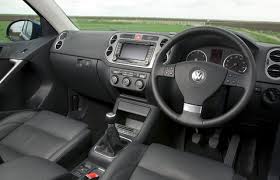 Worth remembering that, this being a Volkswagen Group car, you can buy it in cheaper and more expensive versions. The Skoda Yeti and Audi Q3 both use much of the same mechanical package and are well worth considering if you're in the market for a Tiguan.
And when you've found your perfect Tiguan don't forget to get it history checked by motorcheck.ie.