It's all a matter of perception, and timing, isn't it? Take Arturas Zuokas.
Who? - The mayor of Vilnius wanted to show how tough he could be on luxury cars parked in cycle lanes. Cue pictures of recent models Rolls Royce and Ferrari doing just that. Enter cycling mayor, saying 'a tank is needed'. Zoom in on said mayor in APC, wrecking an offending scrappage-qualifying Mercedes-Benz parked in an otherwise totally empty street.
The 'owner' whose hand the triumphant mayor shook as he came back to his crushed pride and joy was the hammiest of caricatures. But the YouTube of the staged event has attracted almost 2m views so far' and now we all recognise Arturas Zuokas, described as a former war journalist, who clearly knows his publicity opportunities.
What's coming to Frankfurt?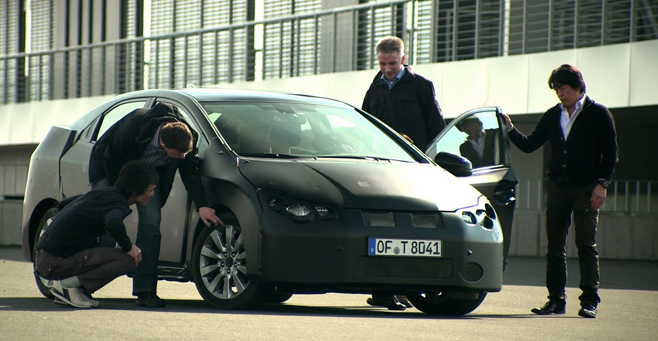 Otherwise we're in the run-up to the biggest motor show of the European auto year, Frankfurt, and there's a lot of teasing and pulling back a bit of the coverings of cars that will debut there.
Such as the new generation Honda Civic hatchback, promoted with pictures of the 'chassis development team' peering at a heavily disguised version. The car rolls into showrooms early next year, promising most room and boot space in the compact segment.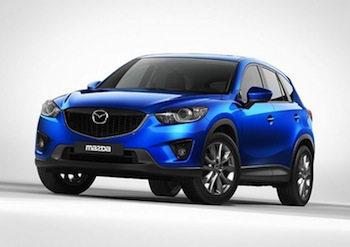 And Mazda's CX-5 compact crossover, taking aim at the likes of VW's Tiguan and here in the spring, it's really the first showcase of the Japanese maker's much-touted SkyActiv fuel-saving technologies and its future, stronger 'face'. The rather manic 'smile' of the current look won't be missed.
BMW isn't at the back of the posse either, pushing out interest in two close-to-production concepts from its new 'i' Series electric/hybrid division. These will be guaranteed crowds at Frankfurt, not least because they look real.
Could this safety initiative work here?
Away from the beleagured halls of the financial capital of Europe, here's a really good idea for our ageing motorists profile. Back in Connecticut a decade ago they set up a 'Yellow Dot' programme which involves a sticker for the rear screen of a car that alerts emergency rescue workers to the fact that the driver's medical data is kept in the glove compartment. It's now beginning to roll out in other states in the US, and we would suggest it as a low-cost initiative for this country.
We could even use a version to mark the 'ghost' cars along our motorway network which are costing our seriously depleted taxpaying pockets a fortune every day. As one James Nix noted in The Irish Times last week, deals made with our toll-keeper private roadbuilders provide them with guaranteed top-ups if the numbers going through their gates don't reach targets set by the Celtic Tiger. First, zombie banks. Now zombie motorists? Time to put the brakes on.
And in future we might only have to think about it and it will happen. According to a paper in the Journal of Neural Engineering, linking our brainwaves with the car's braking system could cut four metres off stopping distances. But what would happen if you're the indecisive type?
New car sales still fragile
Well, SIMI isn't quite sure yet about this year's car market, following the end of our extended scrappage scheme. "Year to date quite positive," says the organisation's DG Alan Nolan, "but the overall market remains fragile." Yep, though at least for this year the highly front-loaded shape of Ireland's annual car sales profile is an advantage, giving the trade a relatively quiet six months to get over the Scrappage Hangover. (Now, why didn't SIMI come up with the idea of having its current President crush the last scrappage trade-in with an Irish Army APC?)
Finally, we rather like the new idea thought up by an Intel engineer to deal with those pesky parking lot door-dingers or worse. With all these onboard cameras on high end cars, the company is looking at having video of the offenders' vehicles pumped straight to your smartphone in real-time. Now, could the system be adapted to spot parking wardens far enough down the street to give you time to rescue your steed from ticketing? Or even from being crushed by an angry APC?
Hey, it's August. The month of wild imagination. And Arturas Zuokas.