It has been on of those mid-summer (or did it come at all?) weeks in the motoring world when nothing much happened, but at the same time there were indicators of things to come.
At home, Ford confirmed that its new generation Focus was making an impact in the registration figures, with over 1,200 units getting their plates since its introduction in March, boosting the model back to the top spot in the Irish market.
It's a highly competitive space, and Ford Ireland chairman Eddie Murphy will be pleased to have knocked Golf off the spot the company has long believed is 'owned' by Ford.
Sticking with the Blue Oval, let's give a big thumbs up to Dooley Motors in Carlow, the dealership that won the Ford of Europe Chairman's Award for customer service.
Frankfurt Motor Show
Frankfurt Motor Show is looming, and amongst the pre-event teases we hear that a brand new Lexus GS will grace that company's stand in the biggest European automotive salon. The current model previewed a new style direction for the Toyota luxury label when it was itself launched, and they're using it again to showcase a bold new look for all future Lexuses. With some 30,000 sales in Europe last year, the brand is only a little more than halfway to where it had hoped to be by now.
(By the way, expect to see a lot of Lexus badges tooling around Dublin centre in early October: the Irish company is the Ulster Bank Dublin Theatre Festival's transport partner.)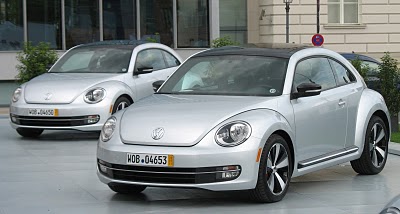 Frankfurt will also show us direction from several other key makers, with VW finally rolling out its Up! city car that goes on sale later in the year. But many will be spending time there in the new Beetle, a much more 'masculine' car that goes on sale in Ireland in January. Showgoers will also be checking out the new generation BMW 1 Series, currently on international press launch, and finding it a more substantial car. And Renault will offer a new 'face' with a mid-life revision to its Twingo baby car.
Honda might have its next CR-V there, which in pictures released this week has a much more bumptious look. The US gets it first, in the autumn, and European versions with more efficient engines are promised for 2012 launch. It's a company that needs to find a new direction just now, and hopefully the next Civic might help.
Happy 50th Birthday!
Looking back, it was a great week for one of the most iconic luxury sports cars, Jaguar's E-Type, which celebrated its 50th birthday in some style at Silverstone.
More than a 1,000 owners brought their pride and joy to the event, and most of them took part in what had to be the world's biggest Jaguar traffic jam on the track.
Taking the long view to the future, Opel is said to be looking at trying for the large car business again with a luxury level crossover above the Insignia. Don't hold your breath, though—it won't happen until around 2016, as the brand has its new Junior city car and some Astra derivatives to roll out first. The company's large car record is spotty since the good old days of the Senator and Diplomat. Sigma, anyone?
Irish rally enthusiasts are looking forward to the Jim Walsh Cork Forest Rally Mallow 2011 on August 13. It will be Round 5 of the Valvoline Forest Championship 2011 and the Roundabout Inn Hotel will be abuzz with high-octane rally chatter.
Meanwhile the overall automotive business chatter shows a steep decline in car sales in Europe, post-scrappage, something which we'll be watching here with interest now that our one is done with. Then there's the onward Marchionne march towards total Chrysler domination, with the Fiat boss setting up a new management team responsible for both the Italian and US brands in the merging group.
Rumours just won't stop about the possibility of Opel being sold, the latest putative suitor said to be VW, the idea rebutted strongly by GM boss Dan Akerson. A big lossmaker for GM, there's a lot of 'restructuring' going on to cut costs there.
Saab Warned against links to Organised Crime
And then there's Saab. Or will there be Saab? It's the continuing sad saga of a brand revered by aficionados but cast adrift by that same GM after decades of costing it big money. Lack of investment, not enough models, and not enough money to pay suppliers.
A Russian red knight is still in the wings waiting for the right lines to be spoken by the European Investment Bank before coming onstage but thursdays announcement that the a loan has been approved on condition Russian businessman Vladimir Antonov does not take over throws a spanner in the works.
Antonov, a former shareholder in Saab's new owner Spyker is a controversial figure because of concerns over his business dealings and rumours of ties to organised crime.
At the moment, the EIB seems stuck on just one line: "Pay me my €217m." What is it they say, when money raises its head, relationships die? Somebody, somewhere, may already be fashioning the headstone or planning to make the EIB an offer they can't refuse!