If you're in the market for a new (or newer) car you're probably in the market for car finance as well. After all there's very few of us in the enviable position of buying a car for cash and those that have it know that 'cash is king'.
Have you been to the dealership and filled out all the proposal forms only to be rejected for finance? If so, don't be overly concerned. 9 times out of 10 it's not you that's causing the problem and unfortunately there's very little the dealer can do to help. Yes, being rejected for finance can be a humiliating experience but it's one that's becoming all too regular in Irish showrooms.
No Competition?
The majority of cars sold in Ireland (over 600,000 new and used cars change hands annually) are subject to one or another kind of finance arrangement. It used to be a very lucrative business for banks and retailers alike so why are dealers now reporting an unprecedented rise in the number of applications that are being declined?
With car repossessions on the increase, a shortage of inter-bank lending and a car sales industry in crisis, a number of finance houses have taken the decision to leave the intermediary market altogether. In the last 12 months alone GE Money, Friends First and Lombard Ireland have all left the market with most of the garage business now being underwritten by Permanent TSB or Bank Of Scotland Ireland and to a lesser extent Bank of Ireland and AIB.
A smaller number of operators means that competition for business from dealers has all but dried up. This lack of competition means higher finance rates and a more conservative approach to approving finance for the consumer.
Dealer Finance - Still an option?
In the heady days of the boom most car dealerships would have had a finance manager that could organise finance for you directly from their showroom. A good one would have had a relationship with a number of different banks and been able to source finance on a new car within an hour!
It's a different story now though. Dedicated finance managers have become something of a rarity. It's more likely today that the attending sales person will ask you to complete a proposal form before sending it to one (maybe two) banks in the hope that you will be the exception to the rule.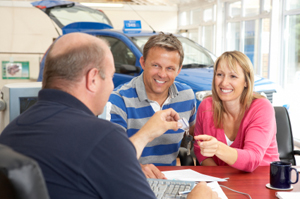 If you are 'lucky' enough to be approved for finance bear in mind that the garage will be entitled to make commission on any finance secured on your behalf. In the past, finance commissions were a very important part of the car dealers business.
In some cases a dealer could make more on the sale of car finance than the sale of the actual car but today the focus has shifted firmly onto moving metal - at any cost. Don't be surprised if the sales person is more excited about your loan approval than you are!
The most common finance product arranged by your garage will be a 'Consumer Hire Purchase Agreement'. Hire Purchase (HP) is a relatively common way of buying a car but there are some quirks of the agreement that you should be aware of. The main characteristic of HP is that the lender still owns the car until you pay the final instalment on it - up to that point you are only hiring it.
Because a HP Agreement has the car as collateral against the loan it should be in a position to offer a more competitive finance rate than a Personal Loan (PL). You wont know though unless you ask the dealer what the APR (Annual Percentage Rate) is.
Hire Purchase - Still popular?
Sourcing finance by Hire Purchase over 60 months with 1 payment in advance used to be relatively straight-forward. Today however, the main lenders are looking for at least 25% of the car's value in advance as a deposit. And if that wasn't tough enough - rates have also shot up to over 9% APR.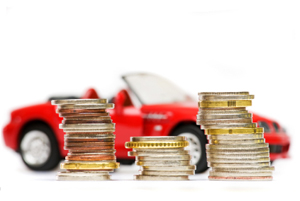 So if you're thinking about buying a car for 25,000 euro you're going to need 5,000 euro in the form of a cash deposit and be prepared to pay approximately 408 euro per month for 60 months (that's another 5,000 euro in interest).
If you're unlucky enough to have a trade in that has more money owing on it than the amount being offered by your dealer in part exchange things can get really difficult. In the past dealers would have had latitude to 'roll' any negative equity into the purchase of your new car and finance the final cost of purchase in one agreement.
The reality today is very different. Banks have adopted an extremely conservative approach and will reach their own conclusions on the value of your trade in before agreeing to a new loan.
This means that if you're carrying any 'negative equity' in your current car you will find it very difficult to purchase another under finance without a cash payment that resets the balance in the bank's favour and removes any residual risk in the approved agreement.
Balloon Payments - Negative Equity!
One method employed by lenders to make the monthly repayments on a HP Agreement as small as possible was to introduce an inflated final payment at the end of the agreement. Commonly referred to as a 'Balloon Payment' this had the effect of reducing your monthly repayments but it meant that the 'loan to value ratio' on your agreement was skewed.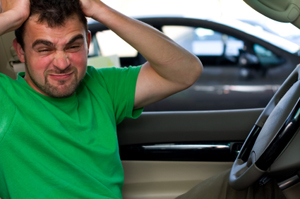 Calculating 'balloon payments' is akin to staring into a crystal ball. Lenders will make a guess as to what the value of the car will be at the end of the finance term and try to make sure that the final payment will be less than the forecasted value.
Common in the early part of the decade, balloon payments have become a big problem for those of us who purchased petrol SUV's that dived in value after the introduction of CO2 linked VRT and road tax.
When somebody decides that they can't or won't continue with the repayments on a car that's not worth the finance owed, the bank is forced to repossess the car or accept its return under the terms of a 'voluntary surrender'. Usually these cars are sold by auction and the bank continues to seek payment for settlement on the loan from the customer.
The number of cars being repossessed under these conditions has risen dramatically during the economic downturn. Consequently lenders are not entertaining any large balloon payments in any finance agreements being put together today.
Manufacturer Finance - Competitive rates?
All this tightening up means that it's considerably more difficult for garages to 'move metal'. In response some of the bigger manufactures have opened finance companies to cater for customers who wish to purchase their product.
Volkswagen for example now offer finance through 'Volkswagen Bank GmbH Branch Ireland'. Currently advertising a hire purchase APR of 6.75% they still require a deposit of 25% but one would expect the approval level to better from a VW bank lending for VW products.
Other options
Other common methods of sourcing finance for a car include the 'Personal Loan' (PL). The APR (Annual Percentage Rate) on a PL is usually higher than that of HP but the finance is not secured against the car which means you own it outright from day one. PL's tend to be more flexible than HP as you have the option of paying off a PL earlier than anticipated, whereas HP is operated over a fixed term.
PL's cannot be supplied by the car dealership. You should contact your own bank or credit union directly to enquire about terms and rates.
[motorcheckform]