If you're planning on importing a used car from Northern Ireland or mainland GB you're probably familiar with the dreaded Vehicle Registration Tax (VRT) that can add thousands to the final cost of registering your car at home in Ireland.
VRT Calculator
The Revenue Commissioners introduced its online VRT calculator a number of years ago to determine the Open Market Selling Price (OMSP) and VRT for any car or motorcycle being imported to Ireland. The service meant that anyone could shop for a car in the UK and calculate the taxes due without leaving their computer.
At Motorcheck we are constantly looking for new ways to improve the quality of automotive data available to our customers, so it was with great enthusiasm that we embarked on a project to improve and enhance the way VRT Calculations are sourced on the web.
Saving You Time
Having looked at the Revenue calculator we realised that Motorcheck could automatically populate the majority of information required directly from the registration number.
Our UK vehicle database is the best of its kind and by harnessing the power of the registration number we were able to bypass all of the manual form-filling required by the Revenue.ie website.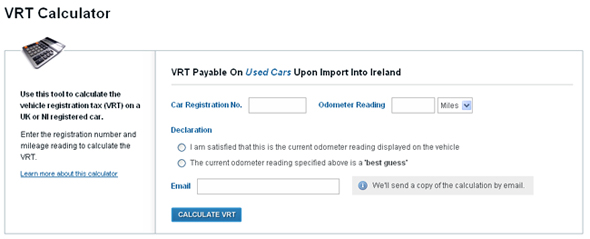 Now instead of spending 5 minutes entering 14 different fields of information at Revenue.ie (which you may or may not have to hand), you can use the Motorcheck.ie VRT Calculator.
Simply enter a registration number and odometer reading and Motorcheck.ie will do all the work for you. It's absolutely free of charge and it takes less than 10 seconds to get your VRT figure.
Not only that but you can also get a full UK history on the car you're thinking of importing from Motorcheck with one click!
Delivering Accurate Results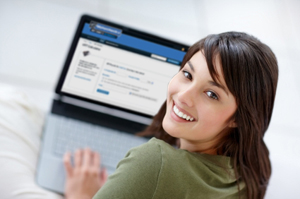 The VRT estimate provided by the Motorcheck.ie VRT Calculator carries the same disclaimer as the Revenue.ie service.
A different amount may be payable if the Open Market Selling Price has changed and/or if a different rate of CO2 emissions is applicable and additional VRT may be payable if the vehicle is fitted with chargeable enhancements/accessories.
What Is VRT?
VRT or "Vehicle Registration Tax" is chargeable on registration of a motor vehicle in the Republic of Ireland. Every motor vehicle in the State, other than those brought in temporarily by visitors, must be registered with the Revenue Commissioners and VRT paid by the end of the next working day following its arrival in the State. A vehicle must be registered before it can be licensed for road tax purposes.
What does the Motorcheck.ie VRT Calculator do?
The Motorcheck.ie VRT Calculator uses the registration number of a vehicle to determine its Make, Model and Variant as well as its first date of registration and its CO2 emissions. With this information it calculates the Open Market Selling Price (OMSP) for VRT purposes and the amount of VRT payable. Please note that some Makes / Models / CO2 Emissions of vehicles are not included.
The types of vehicles that are included are typically:
Category 'A' Vehicles
Passenger Vehicles e.g. Saloons, Hatchbacks, MPVs, Jeeps, Coupes, Convertibles etc
Category 'B' Vehicles
Car Derived, Jeep Derived Vans, Crewcabs
The types of vehicles that are not included are typically Classic Collectable,  Motor Caravans (Campers), Kit Vehicles and vehicles that require to be assessed on an individual basis.
Category 'C' or Commercial Vehicles are not included in the calculator, but VRT is assessed at a flat rate of €50.00 on these types of vehicles.
What is a VRT Statistical Code?
A VRT Statistical Code is a unique identification of a make, model, and version of a vehicle.
How do I get a VRT Statistical Code?
Our VRT calculator will provide you with a VRT Statistical Code once you have completed your calculation.
Would You Like A VRT Calculator On Your Website?
If you would like a customised version of the Motorcheck.ie VRT Calculator for your website please contact us at support@motorcheck.ie.
Try out the Motorcheck.ie VRT Calculator now!