Used car prices rise by as much as 32% in four years.
As anyone who has tried to buy a used car in the past few years will have found out, doing so has become a more expensive operation. Motorcheck.ie has been carefully surveying used car market & prices across models from as far back as 2000, tracking their prices across a four year period from 2010 to this year. The results will make sobering reading for anyone hoping to find a bargain in the used car market…
A sample of the most popular makes and models were surveyed over a four year period including the Audi A4, BMW 3-Series, Ford Mondeo, Opel Astra, Ford Focus, Hyundai Accent, Fiat Punto, Toyota Yaris and Nissan Micra. The research involved comparing the sale prices of more than 12,000 vehicles categorized into three groupings of 10 year old, 5 year old and 3 year old vehicles.
The researches shows that overall, the value of a three year old car at the end of 2013 has risen by as much as 18 per cent since 2010. That represents, on average, a rise of €2,135, a huge amount extra to fund for cash-strapped car buyers.
For a five year old car, the situation is similarly grim, with a massive 27 per cent average rise, although the fact that these are older vehicles means that the mean amount extra needed to be paid is a slightly more palatable €1,732. Those figures are shocking, but perhaps not entirely surprising. After all, it's well known that once the new car market collapsed in the wake of the 2008 financial crash, used car values began to harden in the face of reduced stock from 2009 onwards. Simply put, because we weren't buying very many new cars, there wasn't enough throughput of good used stock into dealer forecourts and the classified ad pages. That scarcity drove up used values.
Effects of scarcity impacts prices the overall second hand market
What's interesting here is that the firming up of used car values for models from 2009 onwards seems to be having a trickle-down effect to even older models, of which there is a relatively healthy market supply. According to Motorcheck's research, it is cars that were ten years old at the end of 2013 that have seen the greatest percentage rise in value – 32 per cent, amounting to an average price increase across the eight models surveyed of €681.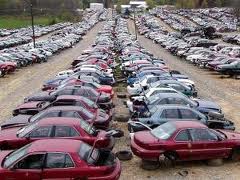 Of those cars, it is the two old reliables, the Nissan Micra and the Toyota Yaris that saw the biggest gains in overall value. In 2010, a ten year old Micra would have set you back on average just over €1,900 and a Yaris €2,600. Fast forward to 2013, and a ten year old Micra is now costing just over €2,800 while the Yaris' price has climbed to €3,600 – both increases of around €1,000. And remember, these are often the cars that are bought by both young drivers starting out and older drivers trading down – precisely the sort of car buyers who can least afford the increase in prices.
10 year old Audi A4 prices climbed from €3,286 to €3,934, the Fiat Punto's from €1,253 to €1,934 and the Ford Focus from €2,462 to €3,043. Similarly, the Mondeo increased in value from €1,955 to €2,335, the Hyundai Accent from €1,579 to €2,088 and the Opel Astra from €2,117 to €2,568. Significant gains in value across the board.
It's quite extraordinary that we are witnessing a hardening of used car values to this extent. This was widely expected to happen due to the low new car sales which took place in recent years but I don't think anyone imagined it would trickle down to cars of 10 years or older which such a strong effect.
Will scarcity of supply increase clocking and other practices?
There is a danger in these figures over and above the mere rise in prices for those shopping for a second hand car. Whenever there is a scarcity of any consumer item, and whenever prices for that item start to rise, unscrupulous traders start to step in. Motorcheck has repeatedly highlighted the dangers of buying a car that has previously been written off, or has had the mileage 'clocked' to improve its value further. With rising second hand prices, a greater number of the less honest will be tempted into the market, keen to make as big a profit as possible on their badly repaired or clocked cars. Added to which, given the continuing scarcity of 2009-2013 cars in the second hand market, it is to the UK market that many are turning to source cars. That's fine as long as the seller and the sales process is above suspicion, but the mere fact of the British market being so much larger than ours raises the likelihood of there being problems with a given car.
There is good news on the horizon for second hand buyers though. The increase in new car sales this year (sales are up by around 26 per cent as we write this) means that the situation in the second hand market should start to stabilize from the end of this year. While it will take some time for the market to readjust entirely, that should at least mean that those looking for a one year old car next year will have more choice, and slightly softer pricing, to deal with. As ever, our advice to those looking to purchase second hand is to have the history of the vehicle carefully investigated by Motorcheck.ie.