Vehicle Registration Tax or 'VRT' as it's known has been a bone of contention for Irish motorists since it was introduced in 1993, leaving many people wondering, is VRT legal?
Originally designed as a replacement for Irish excise duty charges that were no longer possible under the EU single market, VRT is now part and parcel of every car purchase in the Republic of Ireland.
VRT has a direct effect on the 'List Price' of a new vehicle as well as any car (New or Used) being imported from abroad. It's effects don't stop there - as the recent calamity in the used car market demonstrates, VRT has a substantial influence on the residual value of a used car (some 1.9 million of them currently on Irish roads).
Recent Controversy
A recent crackdown by Customs and Revenue officers in the northern counties where a stand-off developed between Customs officials and a Donegal Woman prompted one Irish man to set up a group on Facebook aptly named "Ban VRT Now". At the time of writing the group has 11,247 members as well as local political support.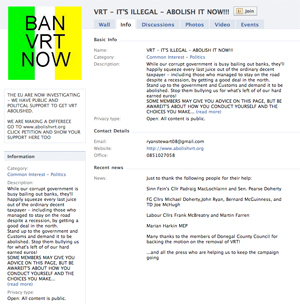 The man behind the movement, Ryan Stewart is campaigning hard to have VRT abolished in favour of a user-based system of taxation. Speaking to Motorcheck.ie, Ryan said that "Our government needs to accept that VRT is never again going to reach the 1.4 billion that it did in 2007. If they accept the detailed proposals that we have presented them with we could stabilise the tax base across all cars to a fairer 'usage based' policy as opposed to new car sales which we can see today are highly volatile".
Ryan's battle is being fought on three fronts. Politically, Ryan is campaigning at at local level to have VRT abolished and has delivered 29 out of 29 Donegal County Councillors supporting a motion to get rid of VRT. Assisting the campaign at EU level is MEP Marian Harkin who has taken his proposals to Brian Lenihan for consideration. Practically, Ryan has taken his case to Dublin castle and met with Revenue officials in an effort to ensure that that due process will be afforded to everyone suspected of evading the tax.
In a recent update to his facebook discussion Ryan writes "We have seen some extremely heavy handed tactics applied, particularly in Donegal...in regard to officials overstepping the mark more often than not and not applying their own rules properly, or consistently. They are criminalising ordinary people, who are trying to make the best of a bad situation in the midst of a recession. They have discretion at their disposal and have leaned toward turning the screw on people, rather than using this discretion to allow people the opportunity to comply, or appeal genuine failures of this procedure."
The Legality of VRT
While Ryan argues that VRT is an illegal tax, a report prepared by Denis Murphy for the Commission on Taxation states, 'The EU has commented that although VRT is legal it is totally contrary to the spirit of the single market and has recommended that it be phased out over a 5 to 10 year period'.
Whilst it may be 'unpopular' this doesn't mean that it's illegal. A Revenue spokesperson pointed out to Motorcheck.ie that Ireland is only one of sixteen european members that impose VRT. i.e. Denmark, Spain, Greece, Italy, Ireland, Netherlands, Austria, Portugal, Finland, Hungary, Latvia, Malta, Slovenia, Cyprus and Poland.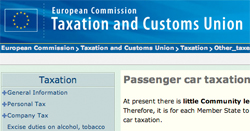 The official legal position in Europe can be found on the Commission's website here where it states "At present there is little Community legislation, or harmonisation of national fiscal provisions, applied by the Member States in the area of passenger car taxation. Therefore, it is for each Member State to lay down national provisions for the taxation of these cars. The few pieces of legislation currently in force mainly cover the cross-border aspects of car taxation".
As VRT is applied to the 50,000+ used cars purchased in the North of Ireland and the UK annually, many arguments against the tax focus on the cross border aspects but Revenue point out that in Ireland as elsewhere there is NO tax on crossing of a border. The tax is on the registration of the vehicle.
So is it legal? Yes. Is it liked? No.
European Commission Proposal
In 2005, the European Commission made a proposal to for the abolition of car registration taxes over a transitional period of five to ten years.
At the launch of the proposal the Commission said "The Member States' revenues would not be affected if the gradual abolition of registration taxes is accompanied by a parallel increase of annual circulation taxes and, if necessary, other taxes. A gradual change would protect car owners from dramatic devaluations of their cars. The transitional period would also allow those Member States applying high registration taxes to make the necessary structural changes to their car tax systems."
Other proposals included a tax refund for cars that were exported and the introduction of a CO2 element into the tax base of both annual circulation taxes and registration taxes.
The recommendation was made in July 2005. 5 years on and we see that Ireland has introduced a CO2 element into the tax base but what of the abolition of VRT? Is this being ignored?
Support for the abolition of VRT
In section 9 of its final report, the commission for taxation supported the Commission's proposal by recommending the abolition of VRT over a longer period.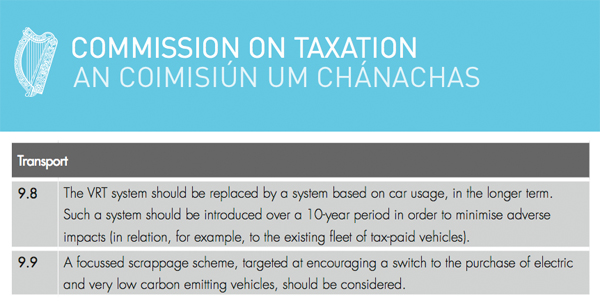 Notice the support for a focussed scrappage scheme that has since been implemented.
What would it mean for our motor industry?
Any changes which could result in the fall of a used cars' residual value would be strongly resisted by the motor industry. Many practitioners still blame the introduction of CO2 based taxation for its collapse in recent years and would be slow to support the introduction of significant changes without careful consideration.
However, there are those that believe the abolition of VRT would mean greater sales of newer, environmentally cleaner cars thus benefitting the industry. Ryan Stewart believes that the Government could reform the tax base and offer support to motor dealers experiencing a fall in residual values without losing revenue in the medium term.
It's difficult to predict how and when VRT will be abolished (or replaced?) but with growing resentment it's likely that it will continue to be a hotly debated topic for quite a while.