Operation 'Swallow' is now in its 8th week and the latest intelligence reports that 10 stolen vehicles have been recovered.
A joint operation between the Garda stolen vehicle unit and the UK's Serious Organised Crime Agency (Soca), efforts are ongoing to uncover stolen vehicles which have been originally stolen in Ireland, had UK identities put on them and are then resold to Irish customers as UK imports.
It's a relatively simple but effective scam that has cost unsuspecting Irish buyers thousands.
How is it done?
The gang perpetrating the fraud steal a car in Ireland. Then, posing as a motor dealer, they obtain the VIN number and other identify details of a similar car registered in the UK from a UK history provider.
With this information they print a counterfeit V5 (vehicle logbook) and disguise the stolen Irish car with the identity of the legitimate UK car.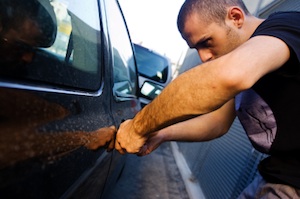 Finally they sell the car in Ireland. It can be a private buyer or a motor dealer but the outcome is the same. Once the certificate is sent back to the DVLA it's discovered to be a fake and the car is returned to its rightful owner leaving the unsuspecting buyer in the lurch.
What should you do to avoid being duped?
If you're purchasing a UK car follow these tips and reduce the risk of being caught out.
Run a Motorcheck report on the UK registration - our database of stolen and suspected stolen vehicles is the most up-to-date in Ireland and the UK.
Look out for stolen V5Cs. The serial number is in a white circle in the top right hand corner on the front of the V5C. If you find a V5C with a serial number in the following ranges - BG8229501 to BG9999030 or BI2305501 to BI2800000, don't go ahead with the sale!
Follow the simple guidelines set out by an Garda Siochana and the DVLA.
Have you been offered a stolen car?
If you think you may have been offered a stolen car, please contact an Garda Siochana in confidence at 01 800 666 111