Years built: 2006 to 2013
Bodystyles: five-door SUV
What is it?
The original Freelander was once the best-selling SUV in all of Europe. That was, perhaps, because almost no one else was selling a similar sized SUV at the time, but still; success is success. The second generation Freelander, which stayed in production for half of forever (alright, from 2006 to last year) was never quite such a big seller, but that is down to two things – needless to say, a whole raft of competitors had sprung up to take their own slice of the market, and the Freelander name was badgered by worries over unreliability – not entirely unjustified as we shall see.
Still, leaving aside the mechanical maladies for a moment, the Freelander II makes an almost ideal starter SUV. It's spacious and practical, comfy and refined , decent to drive on-road and, when you get a 4WD version, as capable on dropping off at school in Midleton as it is bashing sand dunes in Morocco. That's always been the key appeal of the Land Rover marque, and with the new Discovery Sport swooping in to finally replace the Freelander, now could be the ideal time to snap one up.
Which one should I buy?
For a long time, there really was only one Freelander model you could buy – the four wheel drive 2.2-litre 158hp diesel. There was a 3.2-litre petrol version too (using an old Volvo-based straight six), but that was more of a rumour than an actual car you could buy, at least in an Irish context. Trim levels spanned from S to SE to range topping HSE, becoming less utilitarian and more luxurious as you moved up. For all that, the Freelander was always consciously a Land Rover product, as opposed to the firm's more ritzy Range Rovers. The cabin trim was always more about being chunky and solid than soft touch and silky, but we kind of like it for that.
In 2008, Land Rover developed its first stop-start fuel saving system and fitted it to manual gearbox versions of the Freelander diesel, badging it TD4-e. Three years later, a front-wheel drive Freelander was introduced, which trimmed Co2 emissions from more than 190g/km to around q65g/km, but saw crucial offroading tools such as Hill Descent Control and Terrain Response drop to the options menu. The best Freelanders to buy really are the 4WD ones – it's a Land Rover after all and you want it to have that sort of capability.
How much should I spend? Around €11,000 for a 2009 2.2-litre diesel 4WD
Here's one we found:
2009 Land Rover Freelander 2.2 Sport TD4, SIMI registered dealer, 169,000km, two owners, €10,950.
What goes wrong?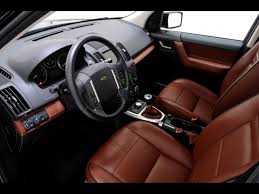 The first generation Freelander suffered all manner of reliability problems which rather queered the pitch for the second generation model. It's a far more robust car than its predecessor, but still prone to the occasional glitch. The most serious issues are with the engine, clutch and gearbox. Transmission or clutch problems seem to arise most commonly on vehicles that are used frequently for towing, so watch for that. It's the same case for the engine, so look for signs of excessive oil consumption which is the key warning for an engine on the way out.
Thankfully, those issues are relatively rare and the other Freelander problems tend to be niggling electrical ones, especially with the stereo, electric windows and lights.
Anything else?
For a car that was in production for so long, the Freelander is a relatively rare sight on Irish roads, presumably not helped by the fact that the recession came crashing down just after it was launched. That means that if you're going to be picky about the car you want (and you should be) then a trip to the UK might be in order to find the Freelander you want. UK cars tend to be better equipped than Irish cars too, which is nice. If you're importing one though, that makes it doubly important to check its history and background with Motorcheck.ie, which you can do simply by clicking the link at the top of the page.