One of our favourite partners, Merlin Car Auctions has been awarded the highly respected accolade of Deloitte Best Managed Company at an award ceremony held in the Burlington Hotel in Dublin last Friday (4th March 2011).
Merlin Car Auctions hold auctions three times weekly in their Naas and Kylemore premises with over 1,000 cars up for auction. Every car is checked by Motorcheck prior to auction and the auction website at http://www.merlin.ie/en.aspx carries a Motorcheck certificate for every car sold.
Highest Levels of Business Performance
Recognising indigenous Irish companies across the island of Ireland that are operating at the highest levels of business performance, the Deloitte Best Managed Companies Awards Programme seeks to identify best-managed companies through an evaluation process that extends beyond financial results.
Merlin Car Auctions underwent a number of phases in the competition and benefited from the advice and feedback from coaches from Deloitte and Irish Life Corporate Business during the process.
Merlin were also singled out among the 20 winning companies and awarded a diploma from the Irish Management Institute. Each IMI diploma is a nationally recognised qualification, accredited and awarded by University College Cork – National University of Ireland, Cork.
Announcing the special award Dr Tom McCarthy, Chief Executive of the Irish Management Institute (IMI) said, "Each year we try to identify one company from among the 20 Best Managed that shows in a practical way how they embody the current theme of the programme and award them a place on one of the IMI's suite of Postgraduate Diplomas. These courses range in subjects from Management, Strategy & Innovation, Leadership, Strategic Human Resource Management, Business Finance, Marketing with Digital Marketing to Executive Coaching and allow these already high performing companies continue to develop their people and ultimately their organisation's management capability.
This year we looked at how the companies had worked to reassess their business models and worked to transform those models in order to grow the company in a sustainable way through the difficult operating conditions they currently face and beyond. As in previous years, the task of identifying one company from among the winners was not an easy one.
Innovation a key source of future growth
Merlin Car Auctions showed that they had re-evaluated their business model, focusing on innovation as a key source of future growth as well as developing their talent strategy to help them identify the right people from the start, bringing them into the business and developing them and in turn the company, as they progress. It is the way in which Merlin Car Auctions were able to put a mirror to the company and identify these key areas to prioritise that made them stand out and allow them develop a crucial advantage in developing and growing their company in a sustainable way."
This is the third award that Merlin has received in recent months. The company received the Innovation of the Year award at the Irish Motor Industry Awards in November. This was for the introduction of the Merlin Live Online facility to their website which has revolutionised auctioneering by allowing interested parties to log on from anywhere and partake in the auction taking place in Naas or Kylemore.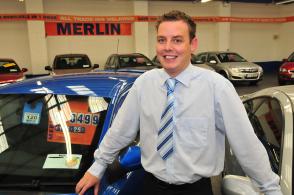 Merlin Car Auctions Managing Director, David Byrne said, "We are delighted to have received this prestigious award. We have been working hard to keep our company operating at the highest standards for our customers at all times. We continue to push the boundaries of innovation. Just last week we held our first exclusively online auction which was a fantastic success. Our objective for our online sales is to extend our service to reach more people and make buying a car online a simple and convenient purchase."
He went on to say, "The Deloitte Best Managed Companies Awards programme is unique in that it recognises the efforts of the entire company, not just one individual. Our success has been achieved through the hard work of our team over the past few years to deliver an exceptional service to our customers."
Deloitte's Ronan Nolan, who acted as Merlin's mentor in preparation for the awards commented, "I was most impressed with Merlin's management style from our very first meeting with David Byrne and his colleagues. They demonstrated a very clear approach to planning and communication, and in particular have a great ability to adapt to challenging business conditions. I believe they are very worthy winners of the Deloitte Best Managed Companies Award."