Another great milestone reached at Motorcheck HQ today.
We've just finished linking over 65,000 vehicle data types with 25 million individual records to our automotive database.
This newly linked data service is the product of over 15 years of intensive research by our good friends at Jato Dynamics and marks another first for Motorcheck.ie.
Another First For Motorcheck
Founded in 1984, Jato provides the world's most timely, accurate and up-to-date information on vehicle specifications and pricing, sales and registrations, news and incentives.
Motorcheck.ie is the first and only car history company to obtain a licence for Jato's current and historic data and we're very excited about the delivery of their data alongside our VRM (vehicle registration mark) lookup.
What does this mean for our customers?
Customers of Benchmark Automotive, the company behind Motorcheck.ie can now access the Jato specification and pricing information that relates to any vehicle registered new in Ireland since 1994.
This means that we are able to provide our customers with data that includes original information from the manufacturers brochure such as
The vehicle's original list price
Actual pictures of the model
Up to 350 items that came as Standard Equipment
A complete list of the Optional Extras and their prices that would have been available on the car
Case Study - Autodirect.ie
The first company to utilize this data in Ireland will be the online car supermarket Autodirect.ie. Each advertisement on Autodirect.ie is compiled by the vehicle registration number to deliver a feature list unlike anything seen on any other website.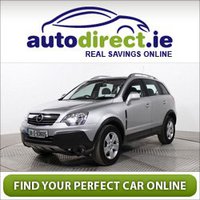 Commenting on the impact this has made to their business Anthony Gaffney at Autodirect said "Customers choose AutoDirect.ie because of our low prices, excellent customer service and crucially, the remarkably high level of vehicle information available to them on our award-winning website.
The days of walking around a car with a clipboard, taking down the specifications and extras are gone – through Benchmark Automotive we can be sure we are giving our customers accurate and specific data for every one of our cars, helping them to make a fully informed decision about their next car purchase".
Innovating with data
Visitors to Motorcheck.ie will soon be able to experience Ireland's first new car search engine that allows the user to find a new car under a plethora of new search options.
The service will deliver all kinds of interesting ways to navigate the new car market and promises to be another market leading innovation in automotive data. It's in beta testing at the moment with an expectation of going live this month.
Sample Advertisement
The following information was taken from an advertisement on Autodirect and shows just how rich our data can be for a used car listing. If you're interested in finding our more about this data or would like to learn more about the suite of services available from Benchmark Automotive you can visit us online at www.benchmark.ie or call us directly at 01-8839230.
Specifications
Below is a list of the key specifications.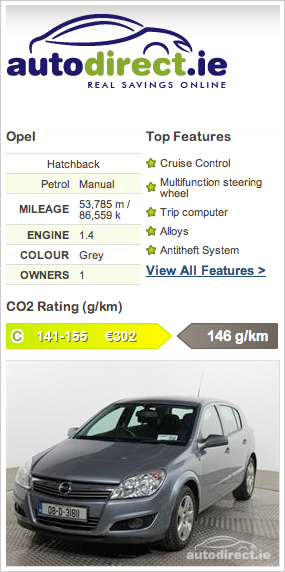 MAKE Opel
MODEL Astra
VARIANT Exclusiv 1.4I 16V 5DR
BODY TYPE Hatchback
TRANSMISSION Manual
FUEL TYPE Petrol
COLOUR Grey
YEAR 2008
MILEAGE 53,785 miles / 86,559 kms
ENGINE SIZE 1.4
NO. OF DOORS 5
NO. OF OWNERS 1
REGISTRATION NUMBER 08D#####
NCT DUE DATE 13 March 2012
TAX EXPIRY 31 January 2011
CO2 RATING (G/KM) 146 g/km
CO2 TAX BAND C
CAR TAX PER YEAR €302
Top Features
Alloys
Antitheft System
CD player
Central Locking (Central locking - remote)
Cruise Control
Front Fog Lights
Heated Seat
Immobiliser
Isofix
Metallic Paint
Multiple Airbags
Power Steering
Equipment
Driver and passenger power heated body color door mirrors
12v power outlet: front with 1 outlet(s)
Leather covered multi-function steering wheel with tilt adjustment and telescopic adjustment
Front power windows with two one-touch
Power steering electro-hydraulic
Front / rear power windows: Front power windows with two one-touch @Available
Electrically adjustable / heated door mirrors: Driver and passenger power heated body color door mirrors @Available
Power steering (vehicle speed proportional): Power steering electro-hydraulic @Available
Tilting adjustment / telescopic adjustment Steering wheel: Leather covered multi-function steering wheel with tilt adjustment and telescopic adjustment @Available
Central door lock operated by: remote
No of speed: 5
Comfort
Bucket driver seat with height adjustment , bucket passenger seat
Seating: five seats
Manufacturer's own RDS audio system with AM/FM and CD player CD player reads MP3
Luxury trim alloy look on center floor console and alloy look on dashboard
Facia trim: alloy look
Central console trim: alloy look
Height adjustable driver / front passenger seat: Bucket driver seat with height adjustment , bucket passenger seat @Available
Rear seats type: bench
Rear seats folding: asymmetrical
Exterior
Center high mount stop light
Gloss paint
Rear view mirror
Part galvanized non-corrosive body
Body side molding
Body color front and rear bumpers
Windshield wipers
Front fog lights
Fixed rear window with intermittent
Tinted glass on cabin
Coefficient of drag: 0.32
Front and rear conventional tires with 205 mm tire width, 55% tire profile and H tire rating official brochure tyre size
Front and rear steel wheels with 16 inch rim diam, 6.5 inch rim width and structure wheel wheel covers
Front tyres: 205/55 HR 6.5x16''
Rear tyres: 205/55 HR 6.5x16''
Bumpers: painted
Door mirrors: painted
Safety
Four disc brakes including two ventilated discs
Driver and passenger front airbag
Four-wheel ABS
Electronic brake distribution
Isofix preparation
Brake assist system
Front side airbag
Height adjustable 3-point reel front seat belts on driver seat and passenger seat with pre-tensioners
Twin projector beam lens halogen bulb headlights
Headlight control with internal height adjustment and time delay switch-off
Cornering brake control
Height adjustable 3-point reel rear seat belts on driver side with pre-tensioners , height adjustable 3-point reel rear seat belts on passenger side with pre-tensioners , 3-point reel rear seat belts on center side
Two height adjustable active head restraints on front seats , two height adjustable head restraints on rear seats
4-wheel ABS : Four-wheel ABS @Available
Brake assist system: Brake assist system @Available
Electronic brake distribution: Electronic brake distribution @Available
Cornering brake control: Cornering brake control @Available
Disc brakes (ventilated): 4 ( 2 )
Halogen Headlights: Twin projector beam lens halogen bulb headlights @Available
Front fog lights: Front fog lights @Available
Front fog lights: Front fog lights @Available
Driver Front Airbag / Intelligent: Driver and passenger front airbag @Available
Passenger Front Airbag / Intelligent: Driver and passenger front airbag @Available
Front side airbags: Front side airbag @Available
Roof Airbags: Front and rear roof airbag
Front seat belt pre-tensioners: Height adjustable 3-point reel front seat belts on driver seat and passenger seat with pre-tensioners @Available
Active Front head restraints: Two height adjustable active head restraints on front seats , two height adjustable head restraints on rear seats @Available
No of Rear seats head restraints: 2
3-point center rear seat belt: Height adjustable 3-point reel rear seat belts on driver side with pre-tensioners , height adjustable 3-point reel rear seat belts on passenger side with pre-tensioners , 3-point reel rear seat belts on center side @Available
Isofix preparation: Isofix preparation @Available
Performance
3-way catalytic converter
Multi-point injection fuel system
Front-wheel drive
Strut front suspension independent with stabilizer bar and coil springs , torsion beam rear suspension semi-independent with stabilizer bar and coil springs
Emission control level EU4 - carbon dioxide level (g/km): 146
Performance: maximum speed (mph): 111, maximum speed (km/h): 178 and acceleration 0-100 km/h (secs): 13.7
1,364 cc 1.4 liters in-line 4 engine with 73.4 mm bore, 80.6 mm stroke, 10.5 compression ratio, double overhead cam and four valves per cylinder Z14XEP
Power: 66 kW , 90 HP EEC @ 5,600 rpm; , 125 Nm @ 4,000 rpm
Fuel consumption: ECE 99/100 urban (l/100km): 8, country/highway (l/100km): 5, combined (l/100km): 6.1, urban (mpg): 29, country/highway (mpg): 47 and combined (mpg): 39
Engine liters / cc: 1.4 / 1,364
Engine configuration: in-line 4
Number of valves per cylinder: 4
Gearbox: manual
Number of speeds: Manual five-speed transmission with shift lever on floor, 3.73:1 first gear ratio, 2.14:1 second gear ratio, 1.41:1 third gear ratio, 1.12:1 fourth gear ratio, 0.89:1 fifth gear ratio and 3.31:1 reverse gear ratio manual @Available
Transmission type: manual
Driven wheels: front
Fuel: unleaded
Maximum speed (km/h): 178
Maximum speed (mph): 111
Acceleration 0-100 km/h (s): 13.7
Fiscal HP: 0
Maximum power hp/PS: 90 @ 5,600
Maximum power kW: 66 @ 5,600
Maximum torque ft lb: @ 4,000
Maximum torque Nm: 125 @ 4,000
Carbon dioxide level CO2 (g/km): 146
Emission control level: EU4
ECE 99/100 urban fuel economy (l/100km): 8.0
ECE 99/100 country fuel economy (l/100km): 5.0
ECE 99/100 combined fuel economy (l/100km): 6.1
Dimensions
Load restraint hooks
Rigid cargo area cover/rear parcel shelf
52 liter, 13.7 gallon main fuel tank for unleaded
External dimensions: overall length (mm): 4,249, overall length (inches): 167.3, overall width (mm): 1,753, overall width (inches): 69, overall height (mm): 1,467, overall height (inches): 57.8, wheelbase (mm): 2,614, wheelbase (inches): 102.9, front track (mm): 1,488, front track (inches): 58.6, rear track (mm): 1,488, rear track (inches): 58.6, curb to curb turning circle (mm): 10,850 and curb to curb turning circle (feet): 35.6
Fuel tank capacity (l): 52
Fuel tank capacity (US gal): 14
Overall length (mm): 4,249
Overall length (in): 167.3
Overall width (mm): 1,753
Overall width (in): 69.0
General
Anticorrosion warranty: duration (months): 144 or distance (miles): unlimited, distance (km): unlimited
Road-side assistance warranty: duration (months): 24 or distance (miles): unlimited, distance (km): unlimited
Full car warranty: duration (months): 24 or distance (miles): unlimited, distance (km): unlimited
Powertrain warranty: duration (months): 24 or distance (miles): unlimited, distance (km): unlimited
Paint warranty: duration (months): 24 or distance (miles): unlimited, distance (km): unlimited
Standard delivery charges: 0
Main service: distance: 30,000 and period (mths): 12
Five-door hatchback body style; RHD GM 3300
Trim level: EXCLUSIV
RetailPrice: €21,495.00