Years built: 2005 to today
Bodystyles: Five door, seven-seat MPV
What is it?
With an increasing number of Irish families suddenly finding themselves with slightly more children than they were originally expecting, and with a decreasing number of 'regular' saloons and estates that can accommodate a trio of more of child safety car seats, it's no wonder that the market has gone mad for MPVs with some car distributors even importing second hand examples from the UK to keep customers happy. Here's one that often gets overlooked though – the Mazda 5, a compact seven-seat MPV that has a slidey trick up its sleeves for extra practicality...
Which one should I buy?
Launched in 2005, the 5 was based on the same basic mechanical architecture as the contemporary 3 hatchback, which actually means that it's distantly related to the second-generation Ford Focus. That shows through in the way the 5 drives – it's noticeably more involving and enjoyable to steer if you're an enthusiastic driver.
Of course, that's hardly the point of buying an MPV (still nice to know if you haven't quite given up on your childhood Jackie Stewart ambitions though...) but the 5 more than fulfils its duties in the practical arena too. It has a seven seat layout, but actually works best as a six-seater – with three rows of two seats. The central rear seat is more of a jump seat really (it folds away into the seat base of the seat beside it), but you can fit the all-important three child seats in the back with relative ease. The boot shrinks from a massive 857-litres with the third row seats folded to a paltry 112-litres with all the seats up.
Quality, as you'd expect from a Mazda, is little short of excellent. Some of the cabin fixtures and fittings are a touch plastic-y but everything is put together with care and attention and the seats themselves are very comfortable.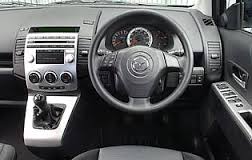 Early models came with either a 1.8 or 2.0-litre petrol engine, or Mazda's own 2.0-litre diesel. In 2010, the car got a major facelift with a new, bigger grille and lights and some wavy 'sand-blown' detailing on the door panels. The interior was also refreshed but most importantly the 5 got an engine transplant in the shape of Ford's 115hp 1.6-litre diesel which had much lower Co2 than the old 2.0-litre engine and is the one you should go for.
The 5's party trick though is its doors – both rear doors slide rather than hinge, which gives the 5 a major advantage over most rivals in tight car parks, and from 2010 onwards you could optionally fit it with powered sliding doors, which should keep the kids entertained...
How much should I spend? Around €13,000 for a 2011 1.6 MZ-D diesel facelift model
Here's one we found:
2011 Mazda 5 1.6D TS2, 115,000km, one owner, €13,950 from a dealer.
What goes wrong?
Hardly anything – this is a Mazda after all. You do need to keep an eye (and an ear) on the front suspension for premature wear, and the cabin can look rather tired, rather quickly if it's been subjected to your after hour of family adventures. The 1.6 diesel engine needs on-schedule servicing too, and a steady diet of high-quality oil, if it's to last. The older Mazda engines are pretty much bullet-proof though.
Anything else?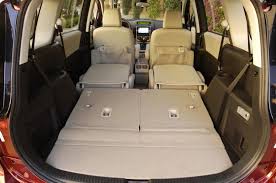 It's worth remember that, in the Japanese market, the 5 was known as the Mazda Premacy, and this can cause a little confusion – that name was also given to a smaller, five-seat-only, MPV produced between 1999 and 2005 so make sure the car being offered is the one you want..
And when you've found your perfect Mazda 5 don't forget to get it history checked by motorcheck.ie.