We're thrilled that The Irish Times has this week unveiled a New Car Finder on their website at the Irishtimes.com. The application uses data from the Benchmark Automotive and Motorcheck.ie database and gives Irish car enthusiasts a fantastic new way to search for a new car and compare what's on offer in the Irish market.
The database behind the application is updated every day by a team of researchers working specifically for the Irish market. This means that the pricing and related data in the new car finder is as up-to-date as it's possible to be.
It's another exciting example of how Motorcheck.ie brings car data to life in unique and clever ways and we were pleased to be chosen by The Irish Times to work on this project.
Unique Features
This free service has all the latest prices and specifications on more than 3,400 cars. The search engine itself has twenty powerful filters that give you one easy way of getting straight to the cars that matter to you. All the usual filters such as Make, Model and Version are there but new features such as the Monthly Cost, Boot Capacity, Warranty and Tax Band search make this the most powerful source of new car data in Ireland.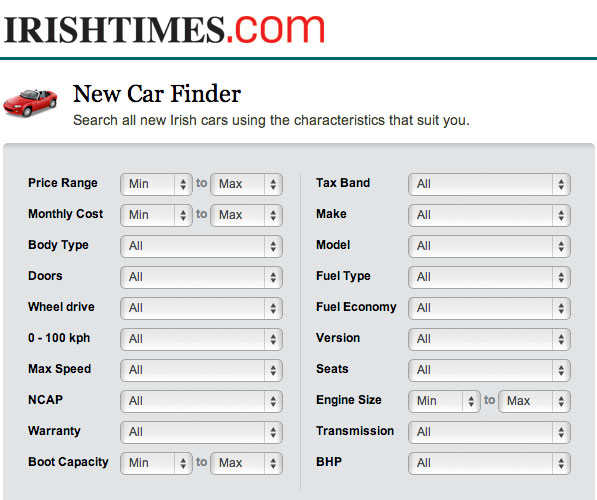 Once you've found a car you like - it will suggest some similar models you may not have considered in the first place.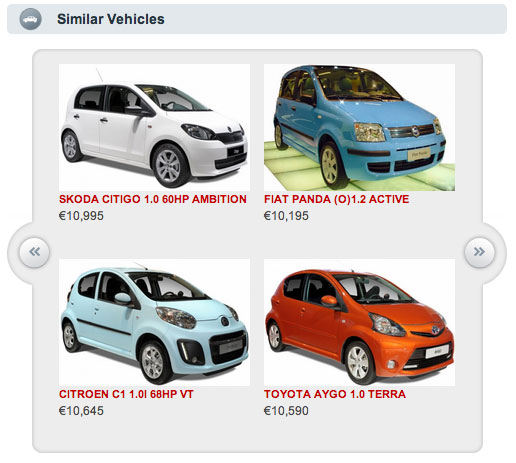 Monthly Budget
For the first time ever potential buyers can now see what's available on a fixed monthly budget. For example - let's assume you have up to €400 per month to spend on a car. Just enter this figure as your maximum monthly budget and the new car application will show you exactly what's available from all the manufacturers (in this case - 354 cars).

Click here to see for yourself.
Pictures & Specification
There are exterior and interior pictures for every car as well as a complete list of all the standard features.
Dealer Contacts
Making contact with your local dealer is really easy with this application. No more hunting around for a phone number or email address! Just click the button marked 'Contact Dealer' next to any car and you can request a return call or make an enquiry directly from The Irish Times.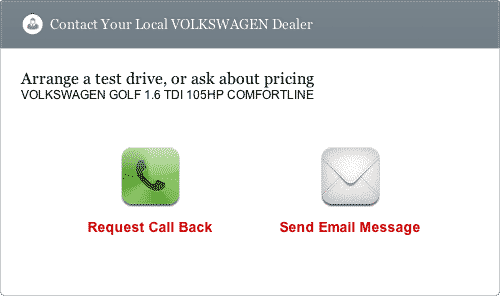 Some Popular Searches
The search permutations are almost limitless but we've included a couple of sample searches for you to try below. Just click on the links to view the cars available.
Every Make & Model in Ireland
The search engine includes every current make and model on sale in Ireland:
Why don't you give it a try and let us know what you think below?