A bumper year for new car sales in 2014 looks likely to continue in 2015
The latest figures for new car sales in 2014, released today by car history experts Motorcheck.ie, show the Irish market is up 30% on 2013 figures. The industry had predicted total sales of approximately 85,000-90,000 units at the start of the year. But the final figures have smashed this original prediction with over 96,000 new cars sold in 2014. That's over 22,000 more registrations than 2013 or an increase of 30%.
It's been a really positive year for the motor trade all round. Not only has there been a large increase in new car sales; new commercial vehicle sales and motorcycle sales are way ahead of 2013 and the used car market has also surged ahead of previous years volumes.
Highlights
New commercial sales finished the year on a high also, up 43% on 2013 with more than 21,000 units sold, indicating confidence from the business world.

New Motorcycle sales finished the year 25% up on 2013 with over 1,000 units sold.

Used car sales, which had remained relatively unchanged for the past number of years increased by almost 50,000 vehicles in 2014 with more than 835,000 used vehicles changing hands during the year, an increase of 6% on last year.

Used cars imported into Ireland from other jurisdictions such as Great Britain and Northern Ireland were also up by 8.4% with 54,290 used vehicles registered in 2014.
Early indications are that the positive trends will continue in 2015 with new car sales predicted to breach the magical 100,000 units. This was last achieved in 2008 when 142k units were sold."
New car sales winners and others in 2014: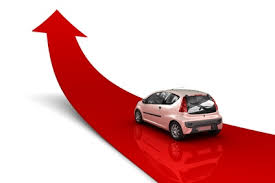 In passenger vehicles Volkswagen, again, continue to take the plaudits for Top Manufacturer and Top Make, with the VW marque ahead of the next highest manufacturers (Toyota, Ford, Hyundai and Nissan) in new car registrations. The VW Golf is the market leader with sales for the model up 23% year on year. The rest of the Top 5 were Nissan Qashqai, Ford Focus, Ford Fiesta and Toyota Corolla respectively.
New Stats Highlights:
• New car sales up 30% Year on Year
• Volkswagen was the top manufacturer, followed by Toyota, Ford, Hyundai and Nissan respectively. The same top five marques as 2013
• The Volkswagen Golf was the top model followed by the Nissan Qashqai, Ford Focus, Fiesta and Toyota Corolla respectively, with the only change year on year being the VW Passat replaced with the Toyota Corolla in fifth place
• New Commercial vehicle registrations are up 43% over last year with the number one and number two spots, again as 2013, in both Make and Model going to Ford and VW respectively (Ford Transit and VW Caddy)
• New Motorcycle vehicle registrations are up 25% over last year with the top five Manufacturers Honda, BMW, Suzuki, Yamaha and Harley-Davidson respectively
New Car Sales Top 10 Manufacturers and models 2014