Over the past few months, there's been a noticeable increase in the number of people calling Motorcheck HQ with stories of their cars being repossessed.
The worst cases come from individuals who call to confirm the result of a finance check after they've bought the car rather than before, which kind of defeats the purpose, but I suppose knowing sooner is better than not knowing at all!
Whilst we don't have any official statistics on the number of cars being repossessed in Ireland, when RTE's The Consumer Show called us, we thought it was high time we conducted a survey of the current market and tried to uncover the chances of buying a used car with outstanding finance.

[motorcheckform]
Certainly the figures coming from Motorcheck results suggested a high probability (in some cases as high as 1 in 3) but would this be reflected in a live survey?
We visited one of Ireland's leading used car classified websites and from an initial search that included private advertisers, franchise and non-franchise dealers advertising vehicles registered 2006 and younger we randomly selected 100 listings.
Survey Results
The results were very interesting. Of the 100 cars surveyed -
30% of the sample turned up positive for finance on the official records of the Irish Credit Bureau
After we contacted the banks in question, 21% of the sample were confirmed to have been on finance on the day they were advertised &
14% of the sample still have finance outstanding today.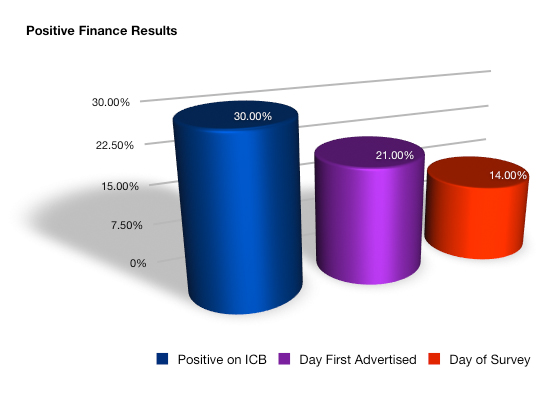 Buying a car where an outstanding finance agreement is verified by Motorcheck is not a good idea!
The seller is not legally allowed to transfer title of the car to anyone until the finance is paid and if the seller disappears, goes bankrupt or refuses to clear the loan, you could be left shouldering the debt or facing a repossession order.
Stop! - Get Proof Before You Buy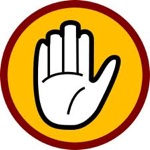 Always ask for proof that finance has been cleared before taking ownership of a vehicle.
If in doubt give us a call - 01-8839230. We are always on hand to call the bank and independently verify every finance check free of charge.
If you need to check finance on a car right now you can enter the registration number in the box below.
[motorcheckform]