8,500 Irish vehicles thought to be affected by the latest Toyota recall
With their impeccable reputation for reliability, the Toyota recall of 6.39m vehicles issued today may come as a shock to many.  The recall will affect approximately 8,500 Irish registered vehicles. However, this is the third such recall issued by the manufacturer in recent times. Toyota also announced a recall of 1.9m vehicles in February 2012, whilst a further recall of 7.4m vehicles was issued by Toyota in October 2012.
The green motorists amongst us will remember the recall back in February 2012 that affected the Prius hybrid car, whilst the later recall in October included the Camry and Corolla models. This latest recall is said to include mainly the Toyota Hilux, RAV4, Yaris, Yaris T Sport and Urban Cruiser.
There are two camps of opinion on these issues. One seems to suggest that Toyota have had a bad run of recalls in recent times and this leads people to question if they are still that "rock of reliability" as in days gone by. The other opinion is that Toyota takes these issues more seriously than anyone else in the market and questions why we don't see as many recalls by other manufacturers.
The truth about recalls
The truth, as always, is probably somewhere in the middle. Recalls are actually quite commonplace. They are issued by all manufacturers and cover all sorts of issues. Most recalls are never heard about in the public domain and are dealt with by main dealers when the vehicle is brought back for a service. Whilst the recalls issued by Toyota have grabbed the headlines, a search of our database will confirm that there are many similar recalls issued by other manufacturers. The volumes involved in the recall are quite startling but this just underlines the popularity of Toyota as a brand. In my humble opinion despite the recent news Toyota remain as one of the most reliable cars you could drive today.
What to do?
So, should drivers be concerned? If you drive a Toyota and want to find out if it is affected by a recall, simply contact your nearest Toyota main dealer. Have your Reg number or VIN ready as they will need it to check if your car is included. If it is included in the recall and its still under warranty then Toyota will have it remedied for you. If you drive another marque and want to check it for any recall issues, the process is the same. Your main dealer will be able to check it out for you and put right any recall issues.
A word of warning however, if you are driving an older vehicle (Toyota or otherwise) that is outside its warranty your main dealer is not obliged to fix any outstanding recall issues for you. To check if you car has been involved in recall, past or present, you can search a European-wide database of vehicle recalls on the VOSA Website.  Or if you would like to do a more in-depth car history check on the vehicle including its full recall history you can always just enter the registration number on Motorcheck.ie and purchase a history check. You will find lots more detail on the car in addition to any recall data. Here's how we present information within our reports: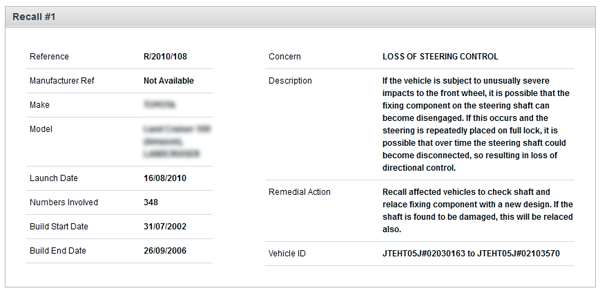 In the recalls section of our report you will see:
The make, model and version affected
The manufacturer's reference
The date of the recall
The numbers of vehicles involved
The issue and the remedial action required to resolve the issue
The VIN sequences involved (if available)