Years built: 2006 to 2014
Bodystyles: Two-door convertible
What is it?
Has there ever been a car quite so fashion conscious as the Audi TT? The first generation car was never all that great to drive but it certainly reveled in its thirties-inspired Bauhaus styling and gorgeous interior. In 2006, the second-gen TT came along with slightly toned-down styling but a big increase in driving enjoyment and practicality. The convertible TT does lose the Coupe's back seats but to be honest, they're not that big a loss as space was never the TT's strong point. Happily, it keeps the same sharp chassis as the coupe (based on the MkV VW Golf) and has a high-tech aluminium body to keep its weight down and its enjoyment up.
Which one should I buy?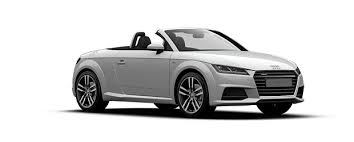 The Type 8J Audi TT, the second generation car, had a broader spread of engine choices than did the original model. You could choose from a 1.8 turbo petrol with 160hp, a 2.0-litre turbo petrol with either 210hp in standard form or 270hp in rorty TTS form. There was also a 3.2-litre V6 petrol and a range-topping 2.5-litre five-cylinder 335hp TT RS model, but those are pretty rare.
Of the standard engines, it's hugely tempting to go for the powerful TTS which came with quattro four-wheel drive as standard. Thus equipped, the TT is close to being a Porsche-beater, with plenty of performance (sub-6.0sec o-100kmh) and brilliant all-weather performance. However, with the sun being out right now, we're talking about the convertible and to be honest, the TTS was better suited to being a coupe. And while the 210hp 2.0-litre turbo has undoubted charms, it's actually the basic 1.8 turbo that we're going to recommend. It may have the least power of any TT, but it's actually the sweetest to drive and when you're driving with the roof down, 160hp can feel like 500hp so why bother buying anything more expensive or powerful?
You could of course go for the punchy and frugal 2.0 TDI diesel version, whose 144g/km Co2 emissions make it tempting for tax purposes, but the combination of extra weight and droning, clattery exhaust note make it a little unappealing so we'll pass for this time, thanks.
How much should I spend? Around €25k will get you a 2010 1.8 TFSI TT Convertible model but you may have to be patient as they're thin on the ground. A trip to the UK might be in order.
Here's one we found:
2010 Audi TT Convertible 1.8 TFSI, 43,000km, two owners, €24,500 from a SIMI-registered dealer
What goes wrong?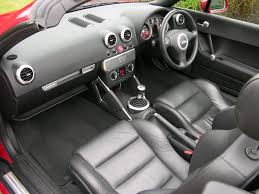 As with any convertible, the roof can be a weak point and the TT has frequent problems with its roof mechanism motors. When test driving you need to pay careful attention to the roof mechanism to make sure that it's retracting and raising properly and that there are no drafts of air coming into the cabin. A trip to a local car wash, if possible, would also be a good idea, to make sure that the hood isn't leaking. The roof sensors can also give trouble, jamming the roof half way open or shut.
The petrol engines need a cambelt change every 115,000km, while the diesel model can suffer from very harsh vibrations if the flywheel becomes unbalanced. Electric window switches are a common failure point (especially if the roof has been leaking water on to them), while all TTs, but especially diesels and S-Line models are very heavy on their front tyres.
Speaking of tyres, if the car has quattro four-wheel drive, make sure that the tyres are worn evenly as the system needs the front and rear tyres to be within 2mm wear of each other to function correct-ly. If you hear a whining sound when the steering is on full lock then the central differential for the quattro system needs attention.
Anything else?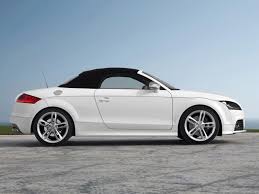 Beware the thick windscreen pillars. Audi beefed up the TT's windscreen surround to provide good protection in a roll-over but that means that they can be awkward to see around when pulling out of a junction. Combine that with the hard-to-hold flat-bottom steering wheel and you may need to alter your driving style and habits to cope with this TT foible.
And when you've found your perfect TT convertible don't forget to get it history checked by motorcheck.ie.