Years built: 2003 to 2014
Bodystyles: five-door, five-seat/seven-seat MPV
What is it?
The Volkswagen Touran is based on the same set of components as the fifth-generation Golf, but actually beating it into the marketplace by almost a year, the Touran is one of the most rigorously sensible cars that Volkswagen has ever produced, and that's really saying something. Slab-sided, upright and bereft of the sort of styling flourishes that you'd find on rivals such as the Citroen C4 Picasso, the Touran has, at first glance, all the appeal of a seventies office block.
Ah, but look inside. It has the space you, as a family buyer, need and the option of seven seats. With three individual rear seats in the second row, it fits that growing family-car requirement of being able to take three child car seats side-by-side and the boot, especially on the five-seat versions that do without folding seats in the boot, is utterly massive.
It also has the same calming, quiet qualities of the fifth generation Golf, the same sense of being almost over-built and over-engineered. The same silky smooth plastics in the cabin and the same seats that allow you spend long hours at the wheel without becoming cramped or twitchy. Later versions got a facelift which brought slightly sharper styling to the front, but it's never going to be an exciting car to look at. Satisfying to own and use though? Oh yes, it's got that well-covered.
Which one should I buy?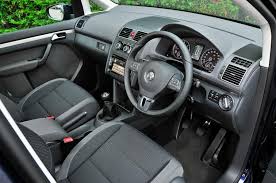 Basically, you're going to end up buying a 1.6 TDI 105hp. That's the version of which most were sold and that's the one you'll most commonly find in the small ads. Thankfully, it's also the best engine you can get in the Touran. Earlier versions kept with the old 1.9 TDI Pump Duse engine, and while that's got lots of torque and is economical, it's noisy as heck. The direct-injection 1.6 TDI has the same power as the old 1.9 but is far smoother and is much more economical – 55mpg is easy in a 1.6 Touran.
The larger 2.0-litre 140hp TDI was available too, and has useful extra power but few were sold in Ireland so you'll struggle to find one. And to be honest, the 1.6 has enough power and torque to make the 2.0-litre feel a little redundant.
If you're a diesel-phobe, VW did have a 1.4-litre turbo TSI engine available, also with 140hp and with surprisingly good fuel economy. If you do mostly urban miles it could be a version worth tracking down. The familiar DSG dual-clutch automatic gearbox was, of course, available too but again not many were sold in Ireland so most cars that you'll find will be a manual.
How much should I spend? Around €20,000 for a 2012 1.6-litre TDI
Here's one we found:
2012 Volkswagen Touran 1.6 TDI Comfortline, four owners, 81,000km, €21,995 from a VW main dealer.
What goes wrong?
Early Tourans suffered from fault bolts securing the turbocharger to the engine, and the resulting problems can cause fuel leaks. It was a serious enough problem to prompt a recall, so make sure that any car you're looking at has had the remedial work done. The electrics are pretty robust but apparently the seatbelt warning system can go wonky, warning you of undone belts when there's no-one in the seats. Check the bodywork carefully for any signs of excessive paint chips and even corrosion and while the interiors are robust, they can suffer at the hands of careless kids, so make sure everything inside is tidy and secure.
Anything else?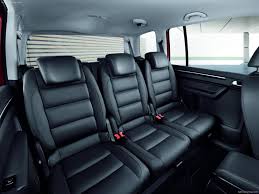 As with many mid-size MPVs, the Touran could be had as a full seven-seater or a more affordable five-seater (which had the advantage of a bigger boot too). That means you do need to be careful with seller descriptions though, as there is no obvious visual cue on the outside to show you whether it's a seven-seater or not, so if you need all the seats make sure you check with the vendor before setting out for a viewing.
And when you've found your perfect VW Touran don't forget to get hit history checked by motorcheck.ie.