Years built: 2007 to 2012
Bodystyles: four-door saloon, five-door fastback, five-door estate
What is it?
The first generation 6, launched in 2001, re-established Mazda as a maker of classy, reliable, enjoyable cars and it was the perfect antidote to all those dreary 626 models which preceded it. The second generation model, introduced in 2007, brought with it a more daring style, more power and even better build quality. It was also, without question, the best family saloon to drive when it was launched, leading one reviewer to liken it to "a four-door, diesel Aston Martin."
Which one should I buy?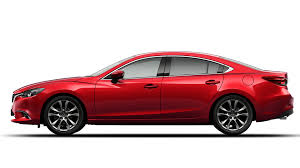 You've actually got quite a bit of choice here. This generation of 6 was offered initially with a 140hp 2.0-litre diesel four-cylinder engine, supplied by Ford which then owned a 30 per cent stake in Mazda. When the car was facelifted in 2010 though, it got a new, Mazda-built 2.2-litre diesel with either 130hp or 165hp. This is the engine to go for – it's more reliable than the Ford unit, and even the lower-power version has plenty of torque-y punch. It's also very economical, easily breaking the 50mpg barrier in daily driving. Don't worry about the fact that 2.2-litres still sounds like an unnaturally big engine to many Irish ears – it has 138g/km Co2 emissions so you'll only pay €280 a year to tax it.
The four-door saloon version is, unsurprisingly, the most common and most will be in pretty-well-equipped Touring spec. There's not much point in hunting around for a higher-spec car – Mazda never offered such niceties as leather trim, so the Touring should suit most purposes. Those looking for a bit more versatility should track down the five-door fastback (which looks all but identical to the saloon) or handsome Tourer estate versions.
How much should I spend? Around €13,500 for a 2010 2.2-litre 129hp diesel.
Here's one we found:
2010 Mazda 6 2.2 D 129hp Sport four-door. 139,0000km, two owners, €13,450 from a dealer.
What goes wrong?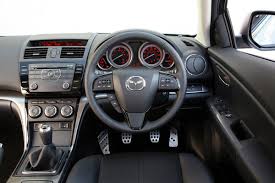 Almost nothing, this is a Mazda after all. The worst problem occurs on the older 2.0-litre diesel, which can suffer from fuel leaking into the oil reservoir. The trick is to keep a close eye on the oil level, and if it starts to mysteriously rise, get the car booked in for a check-up, fast.
Other issues are leaking air conditioning fluid, an overly-stiff action on the manual gearbox (which can generally be pretty easily fixed at a Mazda dealer) and some creaks and squeaks from behind the dashboard.
Anything else?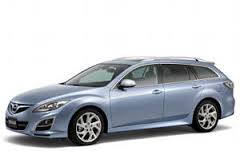 You'll probably notice that the interior looks and feels a little gloomy and black compared to a contemporary Mondeo or Passat. Likewise, the 6 seems to suffer slightly more than those cars from tyre noise (especially on rough surfaces) and wind rush. To be honest, considering the solid reliability on offer, these are pretty small issues with which to be dealing, but they're worth bearing in mind if they're the sort of thing that would annoy you further down the road.
And when you've found your perfect Mazda 6 don't forget to get it history checked by motorcheck.ie.