Years built: 2004 to 2012
Bodystyles: Three-and-five-door hatchback, five-door estate, five-door compact MPV
What is it?
The Golf has gone from its birth in 1974 as a funny, squared-off replacement for the evergreen Beetle to being the best-selling and probably most beloved hatchback of the age. More than 30-million Golfs have been sold around the world and not only does it define the class within which it sits, it also acts as the benchmark up to which all others must strive.
Golfs are cool, classy and sophisticated which is a pretty neat trick when you remember that, essentially, they are simply a practical, sensible family hatchback. It's a trick that VW has pulled off through decades of careful, clever marketing and advertising, slowly convincing us that, somehow, a Golf is inherently superior to its peers.
It's currently the best-selling car in Ireland, and has never been out of the top-ten selling cars since it was introduced, so finding a good one shouldn't represent much of a problem.
Which one should I buy?
Volkswagen is currently selling the seventh generation of Golf, but the good news is that the fifth and sixth generations were essentially the same car. Although VW told us that 2009 MkVI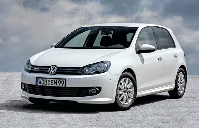 was a new model, really it was a thorough re-skin and re-engineering job on the MkV that was launched in 2004. In fact, most of the changes were to do with making the car easier and cheaper for VW to build (MkVs were pretty much heroically over-engineered) so in practical terms, there's very little to separate them.
Of both generations, there are four basic models which you should concentrate on. If you dislike diesel, but still want something that's not going to mug you every time you visit the pumps, go for a 1.4 TSI. It used a complicated-but-clever 1.4 petrol engine fitted with both a supercharger and a turbocharger, and the upshot is decent 40mpg+ economy with solid performance. If diesel's your thing, then a MkVI BlueMotion is the one to go for. It uses a miserly 1.6-litre 105hp diesel to great effect. 60mpg is easy-peasy but performance is still punchy and it feels as good to drive as any other Golf.
If you want a little more oomph, but want to keep on the economical side of things, go for a Highline-spec 2.0 TDI 140hp but if you're spending that much money you may as well go the whole hog and get the evergreen Golf GTI. For our money, the MkV GTI was a little more fun to drive than the more refined MkVI version, but either way, you're getting a hot hatch legend and a motoring icon. Just ignore the oddball Golf Plus MPV. If you need the extra space, you're better off with the bigger Touran.
How much should I spend? Around €13,000 for a 2010 Bluemotion, €11,000 for a 2008 GTI
Here's one we found:
2008 Volkswagen Golf GTI manual, SIMI registered dealer, 127,000km, two owners, €10,495
What goes wrong?
On MkV models; look for timing belt trouble on 1.4 and 1.6 petrol engines, and the FSI direct injection 1.6 doesn't like regular unleaded. Interiors, despite their solidity, can develop a lot of rattles and squeaks. Noisy front suspension means a rebuild, grinding noises from the steering means a rack replacement and suspension misalignment murders tyre wear. ABS units give trouble, as do diesel oil pumps and turbos and both manual and automatic gearboxes can be weak.
On MkVI models; early cars had clutch trouble – make sure yours has been replaced, some had poorly fitted doors, electrics need a thorough check to make sure everything is working as advertised and Bluemotion models can suffer from particulate filter blockages.
Anything else?
Colour is everything with a Golf. Pick an insipid paint scheme and it just looks all wrong. Go for a nice dark metallic, preferably on option wheels to keep things looking smart. MkV versions especially benefit from the chunky GT-style bodykit, while the lower ride height of Bluemotion models really adds to the looks.