Earlier this year I accomplished the near impossible feat of selling my 07 Range Rover Sport and to be honest I thought I'd miss it more. Granted it was a lovely car to drive and handled great for a 4 x 4 but the expense of keeping up with insurance payments, road tax and a bottomless fuel tank was drawing a lot of negative attention on the domestic front!
Thanks to the guys at FleetFirst for the very generous loan of a BMW 320 I had plenty of time to ponder over what to go for next.
You'd think that being in the motor industry I'd know exactly what I wanted and yes I did have a number of pre-requisites but having consulted with the rest of the family (mistake number 1) the list grew to include;
New (none of us wanted any servicing / reliability issues for a while)
Competitively priced (under 30k),
Cheap to tax (Band B maximum)
Economic on Fuel (Preferably Diesel)
Reliable
Big & Safe enough to cater for 2 child seats
Attractive to the eye (something I could enjoy polishing on a Sunday)
Gadget Rich (Climate Control, iPod connection, Bluetooth, etc.)
So having agreed all of the above you can imagine how popular I was when I went out and bought a 1973 Mercedes Benz 280CE (known to enthusiasts as a W114).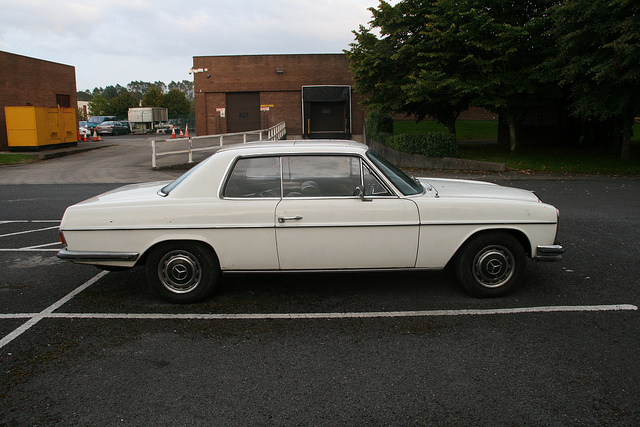 It all started when my brother sent a frantic text message one Tuesday afternoon telling me 'there's a lovely Merc going for a song on eBay'. So in an effort to recapture some of my youth (Dad had one of these in a saloon version for a year or so when we were kids) I got a bit carried away and duly bid on, and 'won', what was described as a 'good restoration project'.
The fact that it was 5 hours away from the nearest ferry port in Wales was a difficulty I delegated back to my brother. I had bigger problems.
Like Jack coming home with a couple of magic beans I had to sell this one hard.......When you think about it though - it does tick most of the boxes.
New - OK it wasn't new new but it is new to me right?
Competitively Priced - A bargain at €1,500.
Cheap to tax - As it's officially a classic car it's only €50 per annum.
Economic on Fuel - Next question please
Reliable - TBC
Big & Safe - It's big enough to cater for the 2 child seats and as I won't be driving at speed of course it will be safe
Attractive - Just wait till it's finished (a whole other blog post)
Gadget Rich - Yep. Fully equipped with an FM Radio
As you can imagine. Things were a bit, em, quiet at home for a while after that....
Fulfilling his obligations the brother dutifully flew over to meet the seller and having drove, pushed and eventually towed it home (thanks AXA!) we finally had a chance to appraise my 'winning item' in person.
Restorable?
This is where things got a little hairy. I asked Ben at Lichtenberg Classics.ie if he'd take a look for me. Peering over his shoulder during the inspection things went from bad to worse as his screwdriver poked holes in places that no self respecting Mercedes would want any screwdriver to go.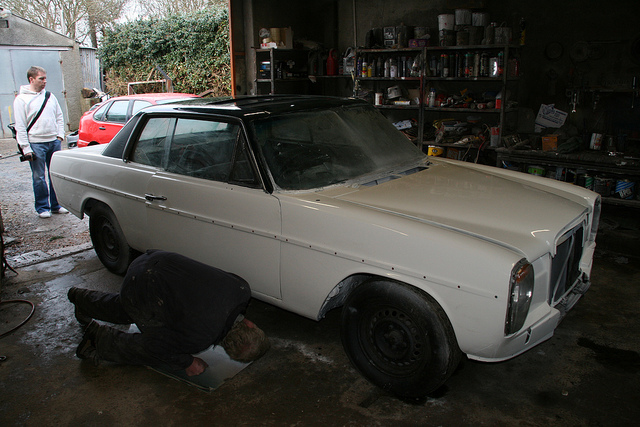 The prognosis wasn't good. With an 'open cheque book' required to complete a proper restoration Ben declared my pride and joy an economic write off (ironic given what the day job is) and helpfully suggested that it may work well as a donor car. Not the result I wanted and to be honest not one I felt like accepting. The car had grown on me and having shown it to my little girl (who's since long forgotten about it) I was determined to give it a new lease of life.
So having buoyed myself up with an extended session of 'Overhaulin' and 'Wheeler Dealers' on Sky, I decided to approach a family friend in Donegal who runs his own small bodyshop. Thankfully I managed to persuade him to take it on as a project and after 3 months and a lot of work most of the body restoration is done. Thanks Jim!
I hope to have it home soon and after its had a good 'seeing to' by a local mechanic, fingers crossed this cars journey will continue.