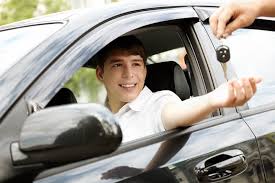 Getting your first car is a modern-day rite of passage. It's that first taste of true freedom (well, freedom of travel — you'll not be free of motor tax, insurance, nor maintenance costs…) and for many people a first car goes hand-in-hand with their first time living away from home, so there's a lot of emotional baggage going on.
Nonetheless, you have to keep your head when choosing your first car. You'll need something with a fairly small engine, to keep your insurance and fuel costs down; solid reliability to keep maintenance costs down; and something that's all-round capable, as first cars tend to be about more than mere transport — they're for holidays, for moving house, and for much more besides.
So, let's start with the classified ads and a notional price limit of €5,000 — that should be about the right balance between affordability and still getting something with decent levels of safety.
Good choices for the first-time driver
Straight away, we were able to find a Fiat 500. Now, many will turn their noses up at a Fiat, assuming that it will be troublesome in reliability terms, but that's not necessarily the case. The 500 is built at Fiat's factory in Poland, and has generally been a well-made and robust car. The one we found, priced at exactly €5,000, is the basic Pop model from 2010 with the well-proven 1.2-litre petrol engine. It'll be frugal, fun to drive, easy to park, and has a certain sense of Italian cool about it. Shortcomings? The back seats and boot are tiny, so it's not the most practical, but for a first car, with an eye on style, it's a good starting point.
With the inexorable rise, of late, in second hand car prices it seems astonishing, but true, that the faithful Ford Fiesta is currently largely out of our notional budget range. However, €5,000 will get you into a 2008-2009 Focus. Now, that will be a little more expensive to insure than the Fiesta, but the 1.4-litre petrol engine is frugal and robust, and the cabin is massively spacious so if you're going to use this first car as a removal van for your big move away from home, then you'll find nothing more practical. The Focus is also brilliant to drive, which is always a good thing for a first-time driver — a car that talks to you about what's happening underneath is always preferable.
Speaking of fun-to-drive, a Mini has been one of the best cars for first time drivers since the original was launched in 1959. You won't need to go back that far to find a Mini within our price range — 2009 will do, and we found a Mini One hatchback, with the 1.4-litre petrol engine, for €4,900. As cool to look at as the Fiat, but with more space inside, the Mini has fabulous road-holding and is solidly built too. Do beware of pricier maintenance costs, though, as many of the parts are shared with high-end BMW models, so spares can be expensive unless you shop around.
If you want to forego style for reliability, then how about a Nissan Micra? Micras are close to indestructible, and our €5,000 limit will get you a 2009 version with the 1.2-litre petrol engine. Inside, you'll find plenty of space and some groovy 'Bakelite' style white plastic buttons. It's no ball of fire to drive, but it'll last forever, and you'll never have trouble selling it on. An ideal starter car, then.
There were some other, more esoteric, models that we found within budget. You'll never be safer than in a Volvo, and we found a stylish 2008 C30 for just €3,500, but with its 1.8-litre engine insurance might be unpleasantly expensive for a young driver. You could also get yourself into a two-seat Smart ForTwo, from 2010, for €4,950 but servicing might be tricky at best. We even found a 1987 Jaguar XJ saloon within budget, but the 4.0-litre engine will be (a) impossible to insure and (b) will bankrupt you either through fuel costs or just blowing up, so maybe not.
However, there is one final choice which combines the cheeky looks of the Mini, the agile chassis of the Focus, and the solid reliability of the Micra in one, neat package. A neat package which basically makes it the ideal first car — the Suzuki Swift. Something of an underrated car when new, you can pick up a 2010 Swift within our €5,000 budget, and it comes with a frugal, smooth-running, and hugely reliable 1.2-litre petrol engine. Suzuki has an exceptional reputation for quality and longevity, and the Swift is blessed with a chassis that's engaging and enjoyable to drive. It's not the roomiest car in its class, but it has more cabin space than the 500 or Mini, so it's certainly more practical. We'd unhesitatingly recommend one as the ideal starter car.
New car option!
There is, of course, one other option — buy a new car. Dacia currently has an offer on the simple, robust Sandero hatchback which would see you put down a deposit of €5,474, and which has monthly payments of just €130. It's a PCP deal, so there is a €6,566 final payment to be made after three years, but you do have the choice of rolling that over into a new deal, or just handing the car back and walking away. It's not the right financial choice for all first-time car buyers, but is certainly worth considering, and brings with it a three-year warranty and affordable servicing. It's certainly worth considering.