As winter begins to bite the risk of accident and breakdown on the road becomes more enhanced. But as the festive season kicks in, it can be too much of a chore to ensure your car can cope with worsening road conditions. Whilst the expense of a winter service is very often one bill too many as silly season takes hold. Tyre thread-depths? Functioning Break-lights? Oil Change? B'ah humbug!
Many will take a risk and put it off. But the unfortunate truth is that many of us motorists will fall foul of a winter motoring mishap.
Recently we published an article on the importance of a car maintenance and specifically a full service history in relation to the value of your car, however, it's also an unavoidable fact that a well-maintained car is so much safer than a poorly-maintained one. From the tiny contact patch of the tyres to the functioning of suspension, brakes, steering and the myriad electronic aids that assist us in keeping our cars between the ditches, it has never been more important to keep things in full, proper working order.
The trouble is that we're not very good at doing so. There has been some interesting research carried out in the UK recently by Suzuki and the safety campaigning organisation "Brake".
Together, they found that cash-strapped drivers are putting their own and other people's lives at risk this winter by failing to repair simple yet potentially deadly faults in a bid to save money.  Slightly more than one in five drivers (23 per cent) surveyed noticed unusual noises in their vehicles during winter last year – but 19 per cent of these drivers ignored the noises claiming they couldn't afford the cost of a mechanic. The research comes as MOT (the UK equivalent of the NCT) test failures have risen from 33.5 per cent in 2005 to 40.1 per cent in 2009/10; potentially due to motorists cutting back on repairs because they are feeling the pinch. Given that the average age of a car on Irish roads is now nudging up to nine years, the implications for similar carelessness here is especially scary. UK trends are often repeated on Irish roads, and with an ageing fleet, a lack of regular care could be putting Irish drivers and road users at serious risk.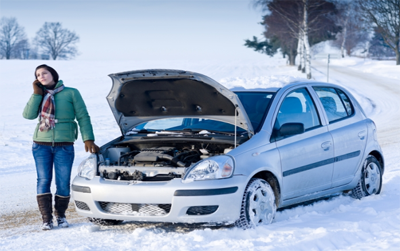 Driving with illegal faults or defects – especially in the next few months as the darker nights and wintery weather sets in – can be a dangerous and financially damaging choice, a Brake spokesperson said. Many crashes and collisions can be avoided by drivers carrying out regular maintenance checks and seeking advice from a mechanic straight away if they have any concerns.
A further 23 per cent of 2,000 motorists in the poll, admit their car had a defect that rendered it illegal and dangerous on winter roads, meaning that they could face fines, penalty points or costly engine repairs.
Brake deputy chief executive, Julie Townsend, said: "This survey suggests some drivers are feeling the pinch, but sacrificing car maintenance is a false economy and could lead to tragedy.
"It's especially important for drivers to be vigilant at this time of year, by carrying out regular basic checks themselves, especially ensuring tyres, lights, wipers and washers are in good condition, and seeking advice from a mechanic about any concerns.
Simple checks and fixes are often low-cost and a key part of your responsibility as a driver. Getting any problems on your vehicle fixed quickly can prevent bigger repair costs, not to mention bad weather break-downs and even potentially catastrophic crashes."
The most common defect is worn tyres which can easily cause a car to skid and crash on icy roads but other common problems include cracked windscreens and broken brake lights.
But a third of respondents said they wouldn't be getting the problems fixed before this year's cold spell, with over one in five (22 per cent) of them claiming it wasn't worth the repair bills.
There is no doubt, every one of us is feeling the pinch at the moment as our wallets and purses become ever more depleted and Christmas looms. But trying to save now by cutting back on keeping up your car could turn out to be the worst kind of false economy. It may not just cost you more cash in the long run, it could cost you, your loved ones or some poor unsuspecting stranger so very much more.