Twice in the last 15 years I could have called myself the owner of a 'Hot Hatch'. The first, a Mitsubishi Colt imported from Japan had the dubious honour of being my first car and like all first cars has a special place reserved for it in memory.
A four speed manual gearbox that had a 'sport' and 'overdrive' feature it had more plastic than metal on the body. A real 'boy racer' effort with air horns, painted hubcaps and furry dice the only downside was that it burned oil and returned a miserable 80 miles on a full tank.
I remember regaling the late Gerry Ryan on 2FM one morning with a story involving the car, a family christmas and a dead donkey. The prize was a three day trip to Donnington race track which I subsequently won and enjoyed tremendously at the time.
It was seven years later as sales manager for a fleet management company that I opted for something with a great deal more in the way of 'street cred'. A black 1.8T 3 Door VW Golf GTI (the Mark 4) became my company car and for two years it cost me a fortune in BIK and Autoglym Car Wax.
I still remember the whistle of the turbo as I enjoyed full throttle on the 147 bhp petrol engine. My favourite car for years after the Golf seemed to have it all, great looks, awesome handling and buckets of power all wrapped up in a very comfortable ride.
Fast forward 8 years and I'm enjoying a Renault Fluence for a completely different set of reasons. Now it's less about power and performance - and more about child seats, fuel economy, road tax, cheap insurance - etc. Boring I know!
Skoda Surprise
However, I do have a certain penchant for the smell of a new car and when Skoda called to see if I'd like to drive one of their new Fabia's for a week I was happy to take them up on the offer.
I'll be honest - looking at the car's specification on the Motorcheck New Car Search Engine didn't set my pulse racing. The 1.2 Active model comes in Band A and delivers 85 horse power for the competitive price of €15,750 and yes while it looks like a tidy little car I wasn't exactly rushing to set it as my screensaver.
All that changed however when last Monday morning Skoda handed me the keys of their Skoda Fabia 1.4 TSI RS DSG. An entirely different animal altogether, up close and personal the car had a genuine sporty look. The model being entrusted to me was resplendent in an eye-catching blue and with its white roof, alloy wheels and front fog lamps I felt a little awkward at having drawn some modest conclusions earlier.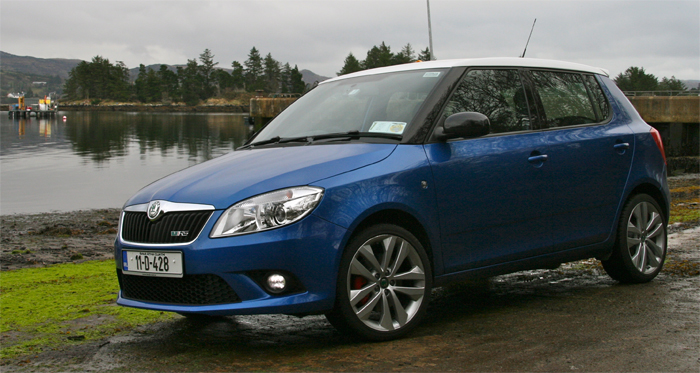 Inside the cabin the car felt spacious. I'm six foot one and generously proportioned myself so 'spacious' for me is generally 'massive' for others. The bucket seats were comfortable without feeling constrictive and the three spoke steering wheel had a nice sporty feel to it. Raymond Leddy walked me through the functions (Bluetooth, iPod connection, etc.) and proudly demonstrated the DSG gearbox with its paddle shift options behind the steering wheel.
All the tech was impressive but it was when Ray told me that the 1.4 Super Charged AND Turbo Charged engine would deliver 180 bhp that things really got interesting. I'd been meaning to get up to Donegal to check on the status of my Mercedes rebuild and now seemed like the perfect opportunity for a spin!
The first thing that struck me about the RS was the engine note. Very different to the whistle of my previous Golf GTI the Fabia was much more intimidating. It grunted with the kind of rasp that you'd expect from a rally car with a genuine feeling of power behind it.
And what power! The 180 bhp seemed almost too much for the modest body. Thanks to the traction control and DSG gearbox I wasn't spinning out of control but a little encouragement on the accelerator from a slow start brought on some fascinating torque steer. It was almost as if the engine wanted to jump out of the car and I was holding it back by the steering wheel.
Overtaking on the motorway or long stretches of lorry-ridden national roads was a real pleasure and my three and a half hour journey to north Donegal passed quickly. In fact I only spent 45 minutes looking at the Mercedes before I jumped back in the Skoda to make the return journey. One pit stop for a coffee and I arrived back in Swords as fresh as when I left. A great testament to the overall ride.
So to sum up. The Fabia was great fun and I enjoyed driving it in a way that brought me back to my youth. In terms of its performance as a 'hot hatch' I'm not qualified to make any comparisons but in terms of value for money  a quick search on the Irish market for a Hatchback under €24,000 that gives at least 180 bhp puts the RS in a class of its own.
Of course there's no harm in seeking a second opinion....