I'm just back from a one-day trip to Donegal where Autoglass technician Michael gave my restoration project a much needed facelift.
The front windscreen was badly needing replacement and with W114 donor cars being fairly thin on the ground Autoglass volunteered to have one made for it at the Pilkington factory.
It turned out to be less than half the price of an original one from Mercedes Benz so when we started work yesterday I was a little nervous about how it would fit.
The new rubbber seal came from a specialist provider on eBay so it was fingers crossed all round.
Definitely a job for the professionals Michael struggled a bit at the start to get the rubber in position. I didn't realise that the glass in the W114 is held in by the rubber moulding alone and the fit needs to be perfect to ensure a weather tight seal. Once it started to bed in though everything came together nicely.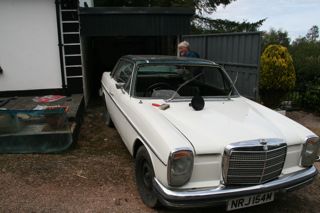 Unfortunately the chrome strip that fits into the rubber was too kinked to go back in without risk of breaking the glass so I'm back online scouring the internet for some replacement pieces.
Turns out the rear window isn't too hot either and will need to be replaced. I already have the rubber moulding but will need to order a new glass asap.
A quick stop into my Mechanic John at Milford on the way back and the car's now booked in for a thorough going over next week.
We'll be replacing the points with an electronic ignition and going through the braking system with a fine tooth comb.
I'm still hopeful that we'll get a run out before the end of the summer.