So now it's official! 2010 will see the introduction of a long awaited for scrappage scheme. But will it make any difference to the catastrophic slump that new car sales have seen this year? Who will benefit from the scheme and what are the options when it comes to trading up?
Budget 2010 has introduced a stimulus package for the Irish motor industry in the form of a 1,500 Euro Scrappage allowance. This allowance will be made available to persons trading in any used car provided that it's ten years or older against a new vehicle that falls into the category of Band A or Band B CO2 Emissions. Unfortunately our online car index doesn't go back to the year 2000 but a previous post I wrote about the national fleet shows that there could be as many as 550,000 vehicles on the road that will qualify for the discount.
Just who will benefit from the scheme?
Before you rush out to order a new car, it's worth checking that your personal circumstances meet these four criteria;
Do you own a car that's at least ten years old?
Is your car worth less than 1,500 Euro?
Do you like anything in Band A or Band B?
Do you have access to cash / credit to make the ten year leap to a new car?
1. Do you own a car that's at least ten years old?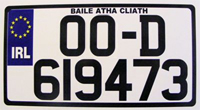 This is the easy part. Dig out your vehicle licensing certificate (logbook) and check the car's first date of registration (if you don't have it to hand you could request a Motorcheck valuation report where its detailed along with a market value for your car).
The date of registration needs to be ten years prior to the date you are thinking of taking delivery of your new car.
2. Is your car worth less than 1,500 Euro?
If you feel that your car is worth more than the scrappage incentive of 1,500 Euro then there's no point availing of the offer. Try to realise the vehicle's true value by selling it privately or offering it to the dealer as a normal part-exchange.
You can always take the scrappage deal later but be warned - any vehicle qualifying for the scrappage discount will be scrapped according to the terms and conditions of the scheme. You won't have any opportunity to buy it back from the dealer at a reduced price!
3. Do you actually like anything in Band A or Band B?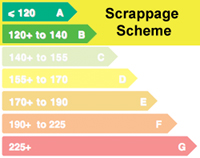 Okay - so you've got a ten year old car that's worth less than 1,500 euro and you're ready to order a new one!
Have you looked at the range of vehicles available in Band A and Band B? Is there something here that will fulfill your daily needs and put that 'new car smile' on your face?
42% of all cars registered this year fall into band b and with more manufacturers introducing CO2 reducing strategies we'll find this segment becoming increasingly popular.
Choose carefully - you could be driving it for another ten years!
4. Do you have access to cash or credit?

Now that you've decided what car you'd like to purchase, have you considered the best way to finance it? Sourcing finance at the dealership is not as easy as it used to be. Many of the banks that offered finance through the dealer network have stopped accepting new applications or signaled their intention to leave the market altogether. If you're planning on taking out a car loan, call your bank first. Make sure the credit is in place at a term and monthly repayment that you're happy you can afford.
Some additional insurances to consider would be Payment Protection (this can cover your payments if you're made redundant or unable to work) and Gap Insurance (If your car is stolen or involved in an accident it will cover any finance owned on the car).
If you have any questions or comments on this post or your own particular circumstances, feel free to drop me a note below. I'd be glad to offer you any assistance I can.