The road to an electric future widened into 4 lanes today as members of the Irish Government, The ESB (Electricity Supply Board) and the Renault -Nissan Alliance put pen to paper to formalise an historic agreement that will see Ireland become one of the first countries in the world to enjoy Electric Cars.
Government Support
The definitive agreement signed today confirms the Governments ongoing support of Electric Vehicles with a VRT Tax Amnesty as well as a 5,000 Euro grant towards the vehicles most expensive part - the battery.
The ESB has pledged to continue its development of a nationwide electric car charging infrastructure with plans to install 3,500 charging points nationwide by 2011.
2,000 domestic chargers will be installed in the homes of electric car owners and a further 1,500 in prominent on-street locations. Also planned are 30 fast charging points along our national inter-urban routes.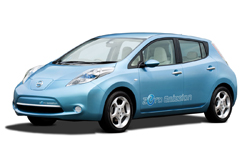 Renault - Nissan Alliance
Nissan will supply its all-electric, five-seater LEAF hatchback to Ireland in early 2011. Gerard O'Toole, Chairman of Nissan Ireland is clearly excited by the new developments. Speaking at the signing today he said 'Nissan Ireland is delighted to be part of such an historic occasion for the motor industry in Ireland and Europe'.
Unfortunately pricing for the LEAF wasn't finalised in time for todays announcement but it's expected that the car will be comparable to other petrol models in the same class. With a total range of 160 km's it is expected that the cost of getting from A to B in an electric car will be 80% cheaper than a normal combustion engine.
The first 'EV' to hit the road with the Renault badge will be its light commercial Kangoo Z.E. later this year.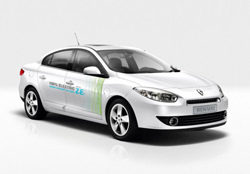 100 pre-production Renault Fluence Z.E.s will be introduced in 2011 for an Irish Pilot project with the production car available for private buyers in 2012. Both models are fitted with the latest generation of lithium-ion batteries which have proven to be 1.5 times more efficient than previous technology.
Philipe Klein, Executive Vice President of Planning and Control at Renault SAS, said: 'Thanks to Ireland's determination to be a leader in electric mobility transport, the necessary conditions - including incentives and infrastructure - are being put in place in this country to allow for the successful adoption of electric vehicles in the near future".
'Boy Racer Stuff'
It's clear from the Minister's first drive of the Fluence that the car has a certain fun factor. As you'll see from the clip below, the huge torque provided by a silent electric engine can take some getting used to!