North County Dublin now boasts an international racing star as Donabate teenager Gary Thompson prepares to take part in the upcoming Japanese Formula 3 series.
One of 18 participants confirmed at this point, Gary joined the KCMG squad  as the youngest entrant on the grid and the first Irish person to take part in the series.
April 17th marks the season opener at Suzuka and Gary's already showing impressive form in extended tests at the Motegi and Fuji international tracks. The 16-race series concludes at Autopolis on October 17th.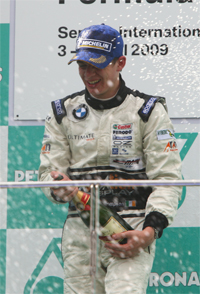 Speaking after a practice lap Gary said "The weather was a bit more unpredictable in Fuji so it was tough to get representative lap times but I'll have to get used to that because wet weather racing is far from unusual in Japan. Overall I'm satisfied with how the programme is going so far and I'm confident we can be competitive with the leading runners when the racing gets under way."
For those of you interested in becoming the next Michael Schumacher, Gary's career highlights show just how competitive the sport is and what it takes to make it to the top. You can follow Gary's progress throughout the series at Garythompsonracing.com or keep an eye on the comments below where we'll be keeping an eye on his success.
If you'd like to lend Gary your support feel free to leave a comment below. We'll be passing all your best wishes to Dad Noel who's doing a great job of keeping Motorcheck informed.