No it's not an April Fool prank - Today's statistics from the Motorcheck.ie Car Index show that a dramatic increase in new car registrations for March is very real and has reversed last years trend of falling sales for the first quarter.
The official figures for March show an increase of 90% for passenger vehicles registered in Ireland as against the same month in 2009 (7,291 registered in March 2009 as against 13,861 for March 2010).
Year-to-date statistics for the industry show passenger sales have increased 38% from 31,064 to 42,795 on an overall basis.
Trend Reversed?
The figures show that sales fell between February and March by 605 units in 2009. However statistics for 2010 demonstrate a clear u-turn with registrations actually increasing by 1,544.
A buoyant used car market encouraged car rental companies to sell their older cars and refresh their fleets with newly registered cars (hire drives) in the first quarter this year. It appears that a significant number of these cars were registered in late March which would have supported the overall increase seen so far this year.
'Hire Drives'
'Hire drives' are vehicles that are registered specifically for car rental companies and normally return to the used car market after six or nine months on rental duty.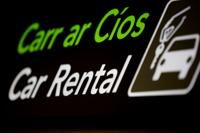 Although accounting for a significant portion of new cars sold so far this year, the car rental industry is still experiencing a shortage of cars.
Operators in the sector blame the lack of available finance as a serious problem for car dealers that would normally supply much greater numbers of new cars to the rental industry.
Banks that previously would have supported car dealers with short term finance arrangements for hire drives are now running scared. One rental company informed Motorcheck that they registered at least 50% less cars this year than last and could now be forced to rent older cars.
League Table
Top of the table for 'Manufacturer' in March is Ford with 1,976 (14% of the total market) registrations. This represents an increase of 125% for the manufacturer when compared with March of last year.
The Nissan Qashqai is the number one selling model for March with 773 units (an increase of 221% on last year) followed by the Ford Focus at 718 (an increase of 135% on last year).
Diesel continues to outsell Petrol with 63% (8,790) of new vehicles registered.
Over 76% of all vehicles registered fall into the lower CO2 categories. Band A represents 4,550 vehicles with Band B totaling 6,120.
Silver and Black continue to be the most popular colours (25% and 24% respectively) and 58% of all passenger vehicles registered falling into the body type category of hatch / lift back.