As the ESB prepares to unveil the first of 1,500 Electric Vehicle (EV) charging posts, Mitsubishi Ireland registers the first of its all-electric city cars.
Unfortunately, supply is limited and it will be June before we see another 14 coming into the Irish market. This particular car will be used for testing purposes in advance of a Government target that 10% of all vehicles on Irish roads will be fully electric by 2020.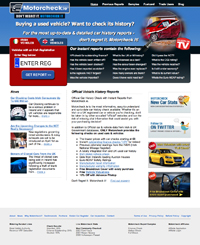 A quick look at the official record on the Motorcheck database however makes us wonder if the registration authorities were expecting EV's to arrive as soon as the i-MiEV did! Our free vehicle identity check shows that the registration number on show hasn't been assigned the correct fuel type. The official database shows the all electric Mitsubishi i-MiEV (Mitsubishi Innovative Electric Vehicle) as a Mitsubishi Grandis 2.0 Di-d Intense 5d/r DIESEL MPV.
Gavin Flood at Mitsubishi was happy to explain. Turns out the registration number used in the picture was a temporary one used for the purposes of the picture. The i-MiEV has yet to receive it's official number plate but whatever it is - we're looking forward to seeing it on Irish roads.
An impressive indication of what's to come. The i-MiEV boasts a top speed of 130 kph with a range of 160km. It can be fully charged in 6 hours and costs less than €2 to charge from a standard plug.