The number of new cars registered in Ireland is frequently used as a barometer for economic activity.
The graph below makes grim viewing for anyone involved in the sale of new cars as it reminds us of the dramatic fall that occurred in 2009 where the previous years total of 148,669 new cars registered fell to a new low of 55,578.
This created an unprecedented drop of 63% and led to thousands of jobs being lost in a sector that has been slow to recover.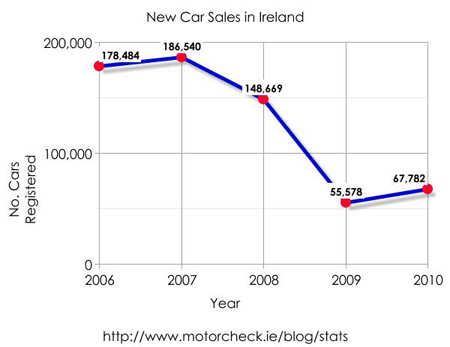 However the motor industry relies on more than new car sales to survive. Servicing the national fleet of 1.9 million cars with Used Car Sales, Repair & Maintenance Services and Parts Retailing are all important areas of a successful dealership and are directly linked to new car sales as the embryo for our national fleet.
What does this mean for our used car market?
The 63% fall in car sales in 2009  is only now beginning to show its effects in the used car market. Small numbers of new cars being registered means small numbers of used cars entering the market as part exchanges which in turn contributes to a knock-on effect for the supply of used cars for years afterwards.
Our UK neighbours are experiencing similar problems and a recovery in sterling against the euro has hampered our ability to jump across the water and simply import the required quota.
All this points to an increased demand for quality used cars.
Benefits for Buyers and Sellers
This means that Irish sellers can expect to see;
an increase in the amounts being offered as 'Part Exchange' against a new car purchase
more and more activity amongst used car dealers offering 'Cash for Cars' (try this google search)
a premium being offered for band A or B cars in the dealer and private market.
Unfortunately for buyers this will mean;
greater difficulty in hunting down a bargain
a rise in the number of used car scams as criminals attempt to cash in on buyers desperate to find the right car
Your Experiences
If you're currently selling a used car privately or considering a part exchange against a new car we'd be delighted to hear about your experiences. Why not value your car to see what it's worth?
If you've been approached by a dealer offering you close to your asking price or you sold your car quicker than you expected feel free to tell us about it by leaving a comment below.