All our "Full Check" reports now include a FREE car valuation that tells you the value of your car in Excellent, Fair or Poor condition, estimated using a car value calculator. Alternatively, you can get the car valuation on its own by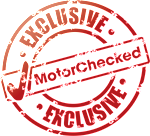 simply entering your reg in the menu above, where it says 'Enter reg' and selecting "Valuation" on the proceeding page.  This is really helpful if you're trying to sell your car and are unsure of how much to ask.
Is it worth trading in my car?
We regularly get asked the same question, "is it worth trading in my car?". To make it as useful as possible, we have split it into two categories, "Private" value and "Trade-in" value. For anyone trying to determine what the price of a car should be, either in the UK or Ireland, on the private market or looking for an indication as what it should be worth as part exchange at your local dealer, MotorCheck is the place to look! All you need is the car's registration and we'll tell you what your car is worth.
Whether it's a used car that you've had for years, or you like to trade up every year or two, knowing the value of your car is essential in ensuring you get the best deal.
Get your valuation check now – enter the reg number and click the "get report" button.
Where we get the value of a car from:
Our used car values are provided exclusively to MotorCheck by Benchmark Automotive, Ireland's foremost authority on valuing used vehicles. Insurance companies, financial institutions and the motor trade industry use Benchmark Automotive Valuation Engine to determine the value of used cars for many years. We are pleased to include a car valuation on your 'Full Check' free of charge. NB: Valuations will be provided where available.
MotorCheck offers you multiple car history checks as well as used car valuations. Instantly run an HPI car finance check to reveal outstanding finance or liens. MotorCheck reports also include the UK and Northern Ireland car check to quickly identify the history of cars originating or registered in those jurisdictions.
Start now with a Free Vehicle Identity Check.
Find out your car valuation and history with MotorCheck including:
Find the current value of the car in the Irish Market.
History of ownership.
The price of the vehicle when new.
All you need is the car's registration to get started.
Our full car check report will also tell you if a car has been imported, clocked, written off, stolen or under finance.
Don't Regret It, MotorCheck It! - more reasons to use MotorCheck
Our affordable and easy-to-use reports save Irish car buyers thousands of euro every week.
Check for evidence of Clocking
Check for previous Write-off history
Check for use as a Taxi or Hackney
Check the full history from the UK & Northern Ireland
What can affect the value of your car:
MotorCheck valuations use three varying condition states, i.e. Excellent, Average and Poor. When assessing the value of your car visually, certain things will add or detract from the cost of a car. We've listed some of the necessary items to look out for below.
What adds to the value of a car:
A full-service history stamped in the service book. A franchise dealer service history is always looked upon as better, especially for younger vehicles 1-5 years old if it has been recently serviced all the better. This helps to show that your car is in good condition.

Low mileage is important relative to the age of the car as the lower the mileage, the higher the value of the vehicle in general terms. However, you must also be cautious that the mileage is verified.

It has a current valid NCT in the case of an Irish car, or MOT in the case of a UK registered car. A current NCT and full NCT history with no tests missed will always add to the value of a vehicle as compared to one without this in its history.

Current road tax will add to the value of a car, especially if there is a long period already paid up as it will mean one less bill to be paid by the new owner. 

A clean car with no damage to the exterior or interior will be valued more than one where there is cosmetic repair work to be undertaken to get the vehicle to "showroom" condition. We would suggest looking for scratches or damages to wheels and trims. Of course, normal wear and tear should be expected in keeping with the age of the vehicle as it ages, but this can affect the trade-in value.

New or nearly new tyres will also add to the value of a car as tyres are an expensive purchase and if you can get another 6-12 months out of the tyres currently on the car, then it benefits any potential buyer.
What detracts from the value of a car:
A partial service history or no service history at all is not a good sign and something that would detract from the value of a used car.

In general terms, the higher the mileage, the lower the value of the car. However, it is better to purchase a high mileage vehicle with verified mileage and service history rather than the low mileage alternative with no service history and unverified mileage.

An invalid NCT or patchy NCT history in the case of an Irish car, and MOT in the case of a UK registered car will also lower the valuation of a car in comparison to one with a full history.

If road tax is in arrears, make sure that you won't be liable for those arrears as this won't necessarily affect the value of the car but might be a surprise additional bill.

A car requiring repairs to bodywork or interior will always be valued less than a car that is in "mint" condition. 

Badly worn tyres are always a bad sign that a car has not been well looked after and will be expensive to replace.