Today marks the launch of Renault Ireland's 'Carculator'. An innovative website that gives users the ability to estimate the running costs of their current car for comparison against an equivalent model in Renault's 2013 product range.
When Renault approached us with the Carculator concept earlier this year we were intrigued with the idea and knew right away that it would be a great project to work on.
At Motorcheck we receive enquiries from business' that want to integrate our data almost every day. Most are quite straightforward - a reg lookup for a parts website, an insurance quotation engine, an advertising platform, e.t.c. Each one is interesting in its own right but we especially enjoy working with innovative applications that open our data up to great new ways of engaging with people online (and enhancing our customers brands in the process).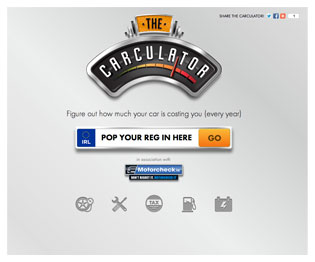 Getting good value for money and making sensible buying decisions is now part and parcel of managing our household budgets. We've seen this clearly in the slow down of new car sales and the overwhelming majority of used car buyers who are moving to the private market.
Earlier this year Motorcheck created a bespoke web service for Topaz Energy that gave users the ability to see just how much further they could go with a full tank of Topaz fuel. This personified the benefits of buying Topaz fuel making it clear to the user what the value proposition behind 'Topaz fuels take you further' would actually mean to them.
Renault's Carculator takes a similar concept and applies it to a whole range of motoring costs (fuel included)!
The Brief
Renault's new range of Clio, Mégane and Fluence are some of the most economical cars on the market and Renault want to wanted to find a fun and informative way of getting that point across. Renault's new campaign shows off their cars new design and affordability throughout. The clever folks at Publicis Dublin came up with the idea of a Carculator. A website that would take your current car and, together with your annual mileage estimate its running costs for 2013.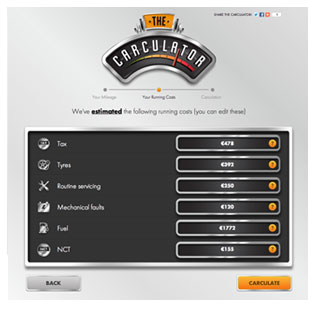 Once the running costs have been identified a favorable comparison with an equivalent model from the Renault range would illustrate just how economical and inexpensive to run their new cars are and encourage users of the service to book a test drive.
The Solution
Motorcheck.ie was asked to come up with the methodology for estimating future costs under the headings of Road Tax, Tyres, Routine Servicing, Mechanical Faults, Fuel and NCT. After a fair amount of internal debate we agreed on a list of variables and market statistics that we felt gave a reasonably good estimate for the Carculator user.
This wasn't easy. As you can imagine there are a host of factors that influence the running costs of a car. A lot of which come down to the person driving it and the conditions it's used in - nothing to do with the car at all!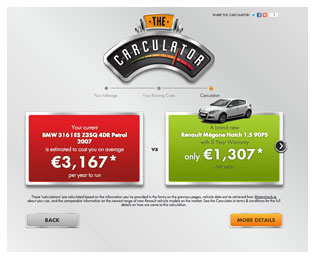 To ensure a reliable final comparison the Carculator gives the user the ability to edit any of the figures offered up by the application. This means that every Carculcation can be modified by the person inputting the details to ensure the final comparison is as accurate as possible.
All of this was accomplished in a very slick design that the uber-talented folks at Publicis put together.
National Campaign
The Carculator forms the backbone of a national TV and Radio campaign that begins today. I've include below a preview of the TV ad that will air for the first time on RTE television this morning and if you're interested in seeing how much cheaper a Renault might be for you why don't you be one of the first to try it out now at www.carculator.ie?