Years built: 2005 to 2015
Bodystyles: four door luxury saloon
What is it?
Let's not beat around the bush – it's Tony Soprano's car. The 300C was always the biggest and baddest-looking car you could buy, even though under its Italian-American styling it was actually really rather German.
Based on the late nineties Mercedes-Benz E-Class (Mercedes and Chrysler were joined at the hip at the time) the 300C offered S-Class levels of space for E-Class money. A big 3.0 litre V6 diesel did the driving (there were a precise few 5.7-litre V8 petrols imported at one point too) and the styling was all mean machine.
It also didn't change much during its lifetime. Eventually, the old Mercedes V6 diesel engine was replaced by a VM Motori V6 diesel with the same 3.0-litre capacity, and in 2011, it got its one and only major facelift which bought with it a seriously upscale new interior and slightly improved road manners.
It was always a proper American car to drive though – floaty, comfy and long-legged in every sense. With Chrysler this week announcing that it was once and for all departing the Irish market, now could be the time to snap up this right-hand-drive slice of Americana.
Which one should I buy?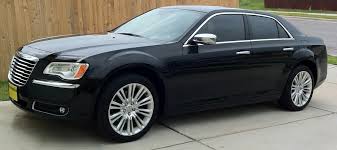 If you can find one, then the post-2011 cars are the superior beings in the 300C universe. With Fiat's research and development cash backing them up, the Chrysler engineers were finally able to give the 300C the interior it deserved. Earlier cars are hugely disappointing inside, even if they are also hugely comfy.
You won't really have a choice when it comes to engines. The 3.0-litre V6 diesel was pretty much the only variant ever sold here. As mentioned, there are some V8 petrols knocking around but you'd be more likely to find a Picasso behind the bath panel than one of those on a dealer forecourt.
Actually, finding a 300C in the first place is not going to be easy, and you will have to stomach a massive €1,200 per annum motor tax bill whichever one you get. Worth it for the styling and sheer presence? Perhaps…
How much should I spend? Around €30,000 for a 2013 3.0-litre diesel V6
Here's one we found:
2013 Chrysler 300C 3.0 V6 Limited, UK-based dealer, 80,000km, one owner, €27,600 + VRT.
What goes wrong?
Generally, very little. The original 3.0-litre V6 Mercedes engine is a tough old thing, and being based on an older E-Class platform did the 300C no end of favours when it turned out how unreliable the post-2002 E-Class was. Even that cheap and nasty interior hangs together quite well.
Do check for signs of abuse at the hands of taxi operators or wedding car hire companies – both popular berths for the 300C. And make absolutely certain it has a full service history.
Anything else?
Want something really rare? Then try and track down one of the fleetingly rare 300C Touring estates. Yes, if it's black, you'll look like you're driving a hearse but they're massive inside and properly practical. And no-one, but no-one, will ever park the same car next to you…
And when you've found your perfect 300C, don't forget to get hit history checked by motorcheck.ie.