Consumers warned by the CCPC to think carefully before committing to a PCP. But we ask what's all the fuss about and should we really be worried?
While the market for new cars in Ireland in 2018 continues to fall, we're now into the July 182 reg-istrations period, and the hoped-for uptick in sales for the summer. Buyers are being warned, though, that they need to act carefully when it comes to signing up for Personal Contract Purchase (PCP) finance deals.
CCPC Knowledge Campaign
According to Fergal O'Leary, member of the Competition and Consumer Protection Commission (CCPC): "PCPs are significant long-term financial commitments. Our recent report into the market showed that the average PCP agreement, in 2016, was valued at €25,000. The complexity of PCP products, coupled with the value of these agreements, means that it is extremely important that consumers are able to understand what they are signing up to. This can only happen when consumers understand their options and how the product works. Our campaign helps consumers in this regard and makes it easier to understand PCP agreements and to choose a financial agreement that is right for their circumstances."
The CCPC information campaign ran through to the 17th of June, and attempted to highlight the finer details of a PCP deal. According to the CCPC, many buyers looking at PCP as a finance option intend to roll the deal over when the time is up, and buy another car. Theoretically, every PCP deal leaves value in a car, over and above the cost of meeting the final payment, to act as a deposit for the next purchase, but; "the CCPC cautions consumers to be aware that there may not always be equity in an older car to cover the deposit on a new one."
Equally, the Commission points out that if you intend to own the car outright at the end of the finance period, you need to pay as much attention to the cost of the final balancing payment, and how you will meet that, as you do to the monthly repayment amount. Equally, those thinking of handing back the car at the end of the loan, and walking away scott-free, need to remember that there are strict mileage and condition limits to which to stick.
"When you are buying a car there are many considerations to take into account such as makes, models and new versus second hand. For most consumers there is also an added question of what car finance to use. This decision requires careful consideration, however, our research shows that consumers spend less time researching finance options compared to the time spent choosing a car; on average four-and-a-half times longer" said O'Leary.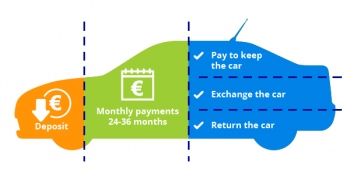 However, the motor industry insists that PCP is a hugely beneficial product for Irish consumers, and indeed has been a primary driver of Irish cars sales in the past couple of years.
Contrary View on PCP
Emma Toner, marketing manager with Peugeot importer Gowan distributors, argues that a PCP is still a more flexible and cost-effective way of buying a car. "The PCP customer has even more flexibility than with a HP agreement and that they can decide on the course of action best suited to their personal circumstances at the end of the agreement. The customer weighs up the vari-ous choices open to him or her and opts for the one that best suits their current position. Should they wish to keep the car, they can opt to pay the outstanding amount and keep the car and can further finance the remainder; it's quite commonplace for customers to finance three-year old cars. Alternatively, they hand the keys back or use the equity in the vehicle to start again under a new contract and drive away in a new vehicle with similar monthly payments and no deposit re-quired. But the key thing here is that they make the choice that best suits them."
Indeed, it's that suitability that is at the heart of the PCP debate, and the CCPC's role in that debate. The whole point of a PCP deal is that it's designed to insulate the buyer, both from high monthly repayments and from potential falls in second hand value.
By laying off some of the value of the car at purchase time, monthly repayments can be made much more affordable than would otherwise be the case. Plus, if at the time of trade in a car's value has fallen below that of the guaranteed minimum future value, then the beauty is that it is guaranteed — the dealer and car maker have to honour the agreed value.
Nothing to worry about
It is true to say that if there were a mass fall in used car values across the board, that the whole basis of PCP could be potentially undermined, but this is something of a doomsday scenario, and thus far the Irish used car market has proved remarkably resilient. And while the guaranteed future minimum value isn't a get out of jail free card for the consumer in the event of falling second hand values, it does provide rather more insulation from the worst effects than hire purchase or other forms of finance.
Does that mean that the CCPC's warnings are a form of 'Project Fear?' No, of course not. The CCPC is absolutely doing its job, and doing it right — it's not questioning the usefulness or ap-propriateness of PCP deals, it's simply saying that we, as consumers, should to be fully educated about exactly what they entail, and what all the pro's and con's are. Some of that is down to car dealers being better trained and better equipped to inform us, some equally is down to us doing our homework.
The banking crisis of 2008 showed that we all need to be more careful and considerate with our finances, and PCP is not immune to that fact. But with a little bit of nous, and some self-education, there's no reason to think that PCP isn't a perfectly valid finance product.